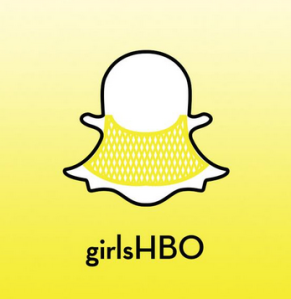 All adventurous women snap. Well, look who's finally on Snapchat. The cast of HBO's Girls! It makes sense that a show highlighting the modern millennial's curious lifestyle choices would use the app that serves as the impetus of it all.
Adding 'GirlsHBO' doesn't guarantee a bevy of Lena Dunham nipple shots (not yet at least), but it will hook you up with cool pictures from Monday night's red carpet premiere. 
Instabuns. If you need some motivation to hit the gym and get going on that New Year's Resolution, look no further than the New York Posts's website. They've got a riveting read today about Jen Selter, a woman who's garnered more than 1.4 million Instagram followers thanks to her smooth, round donk.
Some choice quotes:
"I've seen fake butts, and they're very nice."
"My body's all real… from boobs down."
"With hard work and dedication, anyone can get where I am."
The story even comes with some exercise moves, which we didn't stop working to test out midway through the day, we swear.
Humanitarian krisis. Kim Kardashian kollects payments from so many products she's promoting — diet pills, Sears clothing, fragrances. So it's not surprising when we see her tweets used as ads. What did surprise us, though, was catching this in our Twitter feed: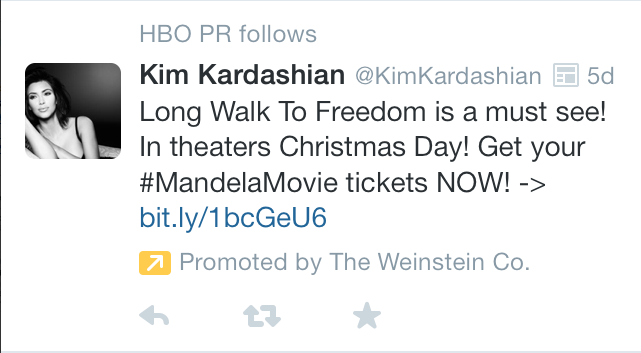 Promoted by the Weinstein Co.? Hmm, okay, so the production company responsible for A Single Man, The King's Speech and Silver Linings Playbook is partnering with Kim K? Guess Kanye's krusade to konvince the world that reality stars are legit, too, is working.
Uber fully loaded. At a time when Uber's not exactly receiving the greatest of press, the car service can at least take solace in knowing they've got a fan in Lindsay "Cycle of Insanity" Lohan. Last weekend, Ms. Lohan took to Twitter to pronounce her love for the startup's personnel:

This is totally normal, right? Just a few days ago we tweeted @SUBWAY thank you for your sandwich artists, and @SevenEleven thank you for your cashiers, and @Abercrombie thank you for your 16-year-old jegging merchants.
Yahoo's TV failure. After just a year of branding CBS' syndicated entertainment program omg! Insider (an obnoxious nod to Yahoo's celebrity vertical), the name is going away. As of Monday, it's shedding all mentions of the Yahoo site and reverting back to its old school title, The Insider. One the reasons cited was its lagging ratings. Can't miss what we didn't watch!