ROAR. Our imaginary girlfriend Katy Perry has just become the first person to hit the 50 million follower mark on Twitter. She's followed closely by the Biebs, at 49.2 million followers, and Barack Obama, at 41.2 million followers.
#H8rs will point out that a bunch of Katy's followers are reportedly fake, spam or inactive accounts, but those people are probably just depressed that nobody retweeted their snarky Dark Horse Grammys joke.
Nope-rah. Queen of America and All Things Aspirational Oprah Winfrey is actually not running an Instagram scholarship program. Some troll made a fake Instagram account announcing that the first 100,000 followers would win $20,000 college scholarships. OWN staffers admitted it was fake, but it still got up to almost 100,000 followers before disappearing.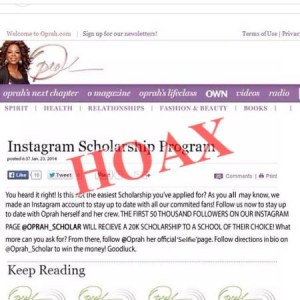 DUMBO Scrum. Brooklyn tech collective Digital DUMBO hosted a big five-year anniversary jam in the eponymous neighborhood last night. In a presentation, it was announced that Digital DUMBO has put on 93 events since the very first one they held at Rebar half a decade ago. The collective now has 19,000 members and a global reach.
Tons and tons of tech types attended; so much so, that Betabeat had to wait outside in the bitter cold with other attendees to get in. Once inside, though, we warmed our cockles with red wine and startup chatter.
Locating Lucas. It looks like some bored person decided to drag Venmo's annoying subway ads even further down the drain. A "missed connections" post appeared on the Brooklyn section of Craigslist seeking to find Lucas. Mocking in meticulous detail the copy of the subway adverts, the post scatters in several names of apps (i.e. Seamless, Hinge and TaskRabbit) lamenting why the writer and Lucas would be a match made in heaven.
"I could really learn a lot from a guy who lives a life so independent, and it seems like you have your shit together," they write. Hope they find what they're looking for — even if it's easy to find.
Model behavior. The over-caffeinated person controlling Seamless' Twitter account bizarrely butted into a conversation with supermodel and bored Twitter person Chrissy Teigan. She was complaining about a crappy dinner she made when @Seamless asked if they could help locate a lost order (or something?). They resolved the confusion and there was no harm done.