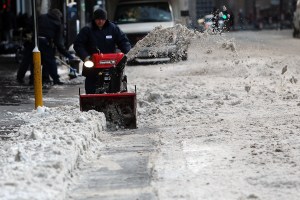 They also snowed on Mayor Bill de Blasio's parade.
Senator Chuck Schumer and Public Advocate Tish James took time out of their speeches at the inauguration of Upper East Side Councilman Ben Kallos yesterday to tweak Mr. de Blasio for his response to last week's snow storm, which local residents–and later Mr. de Blasio himself–agreed had fallen short.
"This is a very diverse district. It has some of the wealthiest parts of New York. But it also has some very middle class and some poor parts of New York. The diversity of the people who live here is enormous and sometimes it gets ignored, as we saw recently," Mr. Schumer said. "Because everyone thinks everyone can do just fine over here. So it really needs a council member who is going to fight hard to bring services."
Public Advocate Tish James, considered a close ally of Mr. de Blasio, later piled on at the ceremony, insisting the moneyed neighborhood needed a "champion" after the snow storm walloped the city last week.
"There is this notion that the Upper East Side has all that they need," Ms. James said. "Well, that was on display last week and clearly the Upper East Side needs a champion in the City Council, someone who can raise the voice of the residents of the Upper East Side."
Several other elected officials, including East Side Councilman Dan Garodnick and Staten Island Councilman Vincent Ignizio, have also knocked the city's response to the storm, with some calling for council hearings. Others, however, have praised or refused to criticize Mr. de Blasio, including Brooklyn Councilman David Greenfield, who mocked the complaints of Upper East Siders last week, joking that residents expected their streets to be "lickable."
Mr. Kallos, meanwhile, has remained mum on the issue and did not mention the snow response in his inauguration speech. Mr. de Blasio did not immediately return a request for comment on the remarks.
View the remark yesterday below. (Mr. Schumer's is at 30:40; Ms. James' is at 48:10)
[youtube http://www.youtube.com/watch?v=YxHm1Ut-Rr0&w=560&h=315]