If you were wondering whether Snapchat CEO and noted non-apologizer Evan Spiegel was a particularly humble guy, the answer is no, he is probably not.
Today, through a somewhat confusing interaction between Mr. Spiegel and Business Insider reporter Alyson Shontell, we learned that Mr. Spiegel maybe kind of snubbed an invitation from Mark Zuckerberg to come meet him at Facebook's San Francisco headquarters in 2012. Mr. Zuckerberg reportedly wanted to speak with Mr. Spiegel prior to the launch of Facebook's Snapchat wannabe app, Poke. 
Talk of Mr. Spiegel's rejection of Mr. Zuckerberg's invitation started with Forbes's new feature on Snapchat, which stated:
"Facebook's Mark Zuckerberg, the richest twentysomething in history, reached out to Snapchat's Evan Spiegel…with an invitation, delivered to his personal e-mail account: Come to Menlo Park and let's get to know each other. Spiegel, now 23 and the brashest tech wunderkind since, well, Zuckerberg…responded to his role model thusly: I'm happy to meet you… if you come to me."
Ms. Shontell, of Business Insider, promptly wrote an article about Mr. Spiegel's arrogance, quoting the email exchange mentioned in the Forbes feature. 
Mr. Spiegel took to Twitter to correct Ms. Shontell, tweeting, "realize that makes for a good story but that's not what happened," and then providing a screen grab of the actual email exchange from November 2012: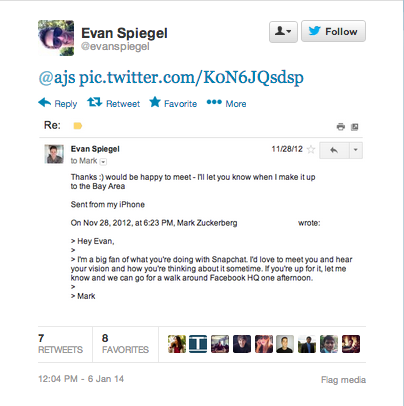 Of course, we have no way of knowing whether the screenshot Mr. Spiegel provided was doctored. But whichever version you believe, it's clear that Mr. Spiegel didn't show the "Mark-Zuckerberg-I-Will-Literally-Do-Anything-You-Say" enthusiasm that we expect most other techies would exhibit upon receiving an invitation from His Royal Facebook Highness.