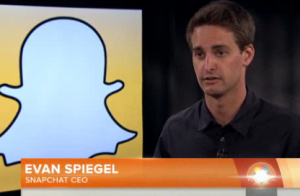 Following a massive security breach that exposed the private information of millions of Snapchat users, CEO Evan Spiegel finally spoke out publicly on NBC's Today this morning.
In the "exclusive interview," conducted by star tech reporter Carson Daly, Mr. Spiegel said that despite prior warnings from a security company that its users' information was vulnerable to a hack, he believed the company did enough to protect it users. Apparently "enough" has a fuzzy definition since hackers were able to expose the usernames and phone numbers using the app's "Find Friends" feature on New Year's Eve. 
Welp! The 23-year-old sounded unprepared and careless about the significance of the hack: 
"I believe at the time we thought we had done enough,'' said Mr. Spiegel. "But I think in a business like this and a business that is moving so quickly, if you spend your time looking backwards, you're just going to kill yourself."
Mr. Spiegel, who didn't bother to apologize, said hackers manipulated the app's "Find Friends" function by somehow amassing 4.6 million users in their address books and releasing the list. He added that the feature is optional (so, it's your fault for having it on) and no snaps were compromised. An updated app with strengthened security measures will be released soon.
Anyway, for a profitless app that's worth several billion dollars, one would think its CEO would muster up a better excuse than "Shit happens!"
"Technology businesses in general are susceptible to hacking, and that's why you have to work really, really hard with law enforcement, with security experts, [and] internal and external groups to make sure you are paying attention and addressing security concerns,'' Mr. Spiegel said. 
Rearrange some of those letters and you get the word "sorry."