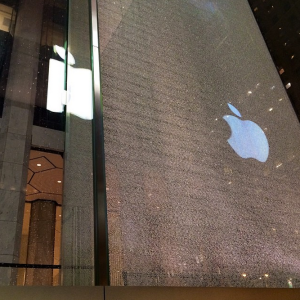 That huge, showy-offy glass cube outside the Fifth Avenue Apple Store has become the latest victim of this dumb winter storm. 
According to 9To5Mac, who reported the story last night, a snowblower destroyed one of the 15 enormous glass panels at 767 5th Ave. Apple originally installed the cube in 2011 for $6.7 million, and it'll apparently cost them around $450,000 to fix the broken panel.
The store is still open today, meaning they'll probably rake in the requisite repair costs in oh, forty-six seconds?