Over the years, record executive Todd Moscowitz has held a number of bold-faced titles at some of the music industry's largest companies. He has been head of Russell Simmons' Rush Communications, served as general manager of Def Jam Records and as CEO of Warner Brother Records. In a 1998 New York Times article chronicling New Year's revelry on the island of St. Bart's, Mr. Moscowitz, then 28, appears beside personalities including Mr. Simmons, Olivier Picasso, Anna Wintour and a young man known at the time as Sean "Puffy" Combs. But more recently, he has focused his attentions—together with fellow Def Jam and Warner alum Lyor Cohen—on a label dubbed 300, after the film of the same title and oriented, like the movie's badly-outnumbered Spartans, toward doing more with less. That impulse can be detected, too, in Mr. Moscowitz's latest real estate transaction, which, The Observer has learned, involves the acquisition of a three-bedroom condo at 345 West 13th Street, for the price of $4.56 million.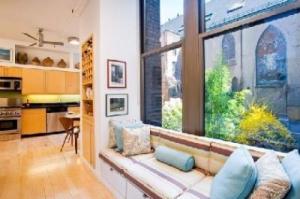 At 2,400 square feet, the unit is hardly miniature. But in the context of the West Village, it constitutes a relatively modest and sensibly-priced rarity. "There's not a lot that is comparable," said Prime Manhattan's Robert Danker, who represented the sellers. "If you were to look today for what's available in that neighborhood in a doorman building north of 2,000 square feet, you'd come up with maybe four or five condos." In newer and more newly-renovated buildings like the Printing House and 150 Charles, Mr. Danker said, prices hover around $2,700 per square foot—$800 more than at Mr. Moscowitz's new pad.
"This apartment needed a little dusting off," Mr. Danker continued. "But it's generally in great condition." The condo features 10-foot ceilings, a rooftop garden and an interior courtyard garden, which, Mr. Danker said, lends the property "almost a European feel." Mr. Moscowitz, he said, would likely strip the white paint currently coating interior bricks and steel beams to grant the space a bit of rusticity: "The brick archways almost look like the entrance to a wine cellar. This place has tremendous bones and a lot of character."
Mr. Danker ought to know; he represented sellers Michael and Midori Graffagna, back when they bought the place in 2009. Mr. Graffagna, a partner at the law firm of Morrison & Foester, is based in the firm's Tokyo office, and he and his wife used the apartment as a primary residence only briefly. Though Mr. and Ms. Graffagna's children live in New York, the pair stayed in the apartment so infrequently, Mr. Danker said, that they thought it was an economically sound to sell and explore the possibility of a smaller pied-à-terre.
"I told them what I thought it would fetch," Mr. Danker said with evident satisfaction. "And that's exactly what it got." What it got was, in point of fact, roughly $1 million more than the couple paid just a few years ago. If we were the Graffagnas, we'd certainly stick with Mr. Danker for our next pied-à-terre search.