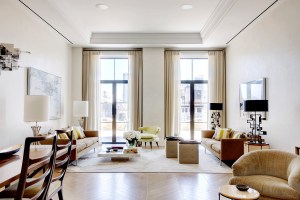 Just when we were starting to think that every Walker Tower unit might be claimed by a movie star, music mogul or finance titan cloaked in a bland-sounding LLC—the developers go and sell an eighth-floor unit to a pair whose names have a good deal more cachet in philanthropy and social advocacy circles than in the Hollywood Hills or on Wall Street. (Though they're no strangers to such tony precincts.) Former NAACP president Bruce Gordon and his wife, Tawana Tibbs, have just bought a three-bedroom unit at 212 West 18th Street for $7.17 million, according to city records.  
At 2,348 square feet, the condo is not among the uber-luxe building's most palatial, but at only $3,055 a square foot, at least it was a relative bargain. Given that Penthouse 1, which closed earlier this week for $50.2 million, sold at $8,549 per square foot, Mr. Gordon and Ms. Tibbs may feel consoled about paying slightly more than the apartment's $7.04 million ask. Potentially encouraging, too, are the home's particulars: three terraces totaling 550 square feet, southwestern views stretching to the Statue of Liberty, a freestanding cast-iron bathtub, and the high-end flooring, hardware, and climate control and automation systems found throughout the building.
Prestigious a post as it is, the NAACP presidency is not the sort of position that will finance entry to a building like Walker Tower. For that, Mr. Gordon and Ms. Tibbs can thank their previous experience—for 35 years Mr. Gordon worked for Bell of Pennsylvania—known today as Verizon—retiring in 2003 with the rank of president of the Retail Markets Group. For his successes, he was ranked Black Enterprise magazine's 1998 Executive of the Year, with Fortune's 2002 50 Most Powerful Black Executives, and on Ebony's 2006 list of 100 Most Influential Black Americans and Organization Leaders. (It was during this last time period, from 2005-2007, that Mr. Gordon headed the NAACP.) Ms. Tibbs, too, worked at Verizon before retiring in 2003; she has also served as president of the board of directors for Big Brothers Big Sisters of New York City.
With robust careers and a supply of karma-enriching good works in their collective rear-view, Mr. Gordon and Ms. Tibbs would be more than justified in settling down on one or more of their three terraces and putting up their feet. Though that doesn't seem quite their style.