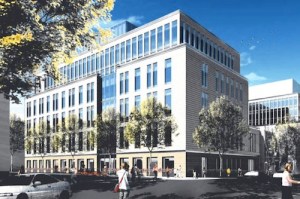 While some New York neighborhoods are fighting desperately to preserve their local hospitals, others are doing all that they can to stymie their expansion plans. Expanded access to health care in one's neighborhood is, apparently, far from universally appealing. At least, so the vehement opposition to New York Methodist Hospital's Park Slope expansion would seem to suggest.
Residents opposed to Methodist's plans to construct a 152-foot-tall building on the site of 16 townhouses, Curbed reported, apparently unmoved by Methodist's concessions, among them pulling back the glass wall on upper floors and adding 65 parking spaces to accommodate additional vehicles. However, last night, Brooklyn's Community Board 6's land use committee gave Methodist conditional approval for the expansion, with the request that the hospital further reduce the base and building height along 5th Street and maintain the additional setback that was recently added. The full community board is scheduled to vote on the plan Wednesday night.
While the hospital's desire to add more beds and operating rooms might be welcomed in another neighborhood—for example, Cobble Hill or Bed-Stuy, whose Long Island College and Interfaith hospitals are teetering on the edge of collapse—Park Slopers are livid about "the devastation that this construction will bring to the community."
Residents feel that "this is the wrong building in the wrong neighborhood at the wrong time," Curbed reports. They're also peeved that Methodist hasn't provided any hard data on why it needs to expand (we weren't aware that applicants had to demonstrate need when applying for variances). Ultimately, though Methodist doesn't need community approval to expand—it can just build two taller, thinner as-of-right towers.
Meanwhile, Cobble Hill and Bed-Stuy residents are busy worrying about what will become of their neighborhoods if their medical centers become luxury condos. The grass, we guess, is always greener. Hey, at least Park Slope residents haven't sued to stop the expansion yet, unlike Upper East Siders who refuse to admit defeat in the battle against Sloan-Kettering.
CORRECTION: An earlier version of this story stated that Community Board 6 had rejected the expansion plan when in fact, the community board's land use committee gave the plan a conditional approval. The full community board will vote on the proposal on Jan. 8. The Observer regrets the error.