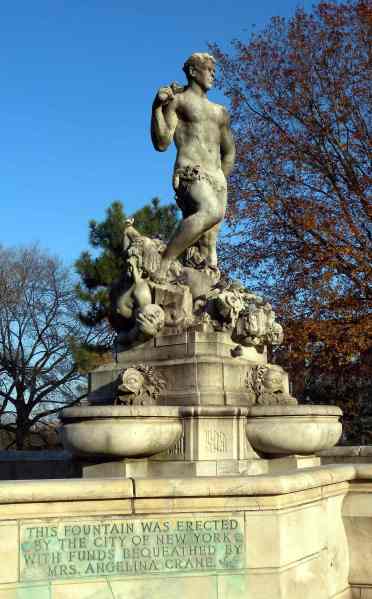 Ah, sweet progression.
Art depicting men trampling on women just isn't as popular as it used to be.
In 2012, The Triumph of Civic Virtue was removed from its original Queens location to Green-Wood cemetery because of its state of disrepair. Some area residents staged a protest, demanding that the massive stone Hercules stomping on two women representing "vice" and "corruption" be returned.
Because, you know, art.
Oh, and history. In 1891, Angelina Crane gave the city of New York $53,000 to build a fountain in her honor. She decided that Civic Virtue would imbue a sense of "local dignity." Mayor George B. McClellan commissioned Frederick William MacMonnies to design the monument and as legend has it, Charles Atlas, a famous body builder, Helen Geary, a magazine model, and Mabel Foth, a New Jersey housewife, served as the inspiration for the controversial forms.
Even then, people were not pleased by the statue and it was moved on several occasions due to protest, finally finding a home in Kew Gardens. According to the statue's site, the sexism wasn't exactly unintentional. Mr. MacMonnies reportedly said:
"Can it be, that the women are angry because some man finally found the strength to resist temptation? In most instances of romantic sculpture, we have the man succumbing to the temptress. I think women should be pleased when strength is found to withstand their wonderful wiles. Antiquity is all the other way."
For the last few years, the podium at the center of the fountain has remained empty, save for a bunch of graffiti. New Queens Borough President Melinda Katz told DNAinfo that there are "a lot of ideas in the works" for what could fill the statue's former spot, but that she wasn't interested in bringing Herc back.
Andrea Crawford, Vice Chairwoman of Community Board 9, told DNAinfo complained that the empty area is unattractive.
"It's an eyesore, it's nasty and it's getting tagged with graffiti," she said.
Graffiti covered eye-sore or giant, female-stomping Hercules? A tough choice. It appears Ms. Katz is stuck between a rock and a sexist place.