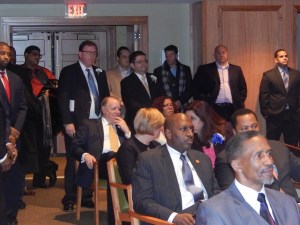 HILLSIDE – Steve Sweeney versus Steve Fulop for governor in a Democratic Party Primary?
One Central Jersey operative said no way, and in naming a third candidate, insisted this person could unite the party.
The name?
Elizabeth Mayor Chris Bollwage, the source, speaking on condition of anonymity, said.
Bollwage routinely bashed Trenton Democrats over the last four years, so already has a record of voicing contrast.
He's also been a big city mayor for 20 years, unlike Fulop, the source argued, who has not yet served a full year in office and is already making the gubernatorial rounds.
Bollwage earlier this evening attended the swearing-in ceremony of Hillside Mayor Angela Garretson.
In 2009, he entertained a challenge of incumbent Republican Gov. Chris Christie but did not end up running.