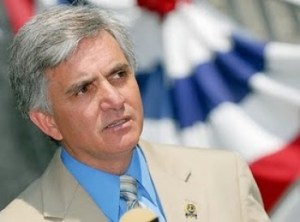 HOBOKEN – Nine freeholders in Hudson County are up this year and right now, three of them appear to be ready to absorb the angst of local politics, especially in Jersey City and West New York.
The freeholders serve at the behest of the mayors in Hudson, but how the freeholders get picked depends on a sensitive combination of county and local politics.
In Jersey City, sources say Mayor Steve Fulop plans to get rid of Freeholder Jeff Dublin.
Dublin last year stood with incumbent Mayor Jerry Healy, defeated by Fulop in the Jersey City Mayor's race.
Fulop couldn't punish U.S. Rep. Albio Sires (D-8) or Bayonne Mayor Mark Smith.
So he's going to satisfy his payback penchant by ousting Dublin.
A source close to the situation said that the mayor will lean on his key ally, state Sen. Sandy Cunningham (D-31), to select Dublin's replacement, in part to avoid ticking off the African American community.
Then there's Hoboken and incumbent Freeholder Anthony Romano, a former cop.
He played footsy with the idea of running for mayor, then backed down amid whispers of deal-making with the mayor. The gist of Romano's logic seemed to be: I won't run if you back me for freeholder again.
But Zimmer evidently isn't 100 percent convinced that Romano is her man. She may prefer to cut a deal with 3rd Ward juggernaut Councilman Michael Russo, who showed up at her swearing-in ceremony on Saturday at Stevens Institute.
Russo has strong local ties and if Zimmer selects him she would be cutting a deal with the most symbolic purveyor of born and raised politics in the mile square city.
A source close to the negotiating said the mayor is not likely to reward longtime ally Councilman Ravi Bhalla, who's antsy to move up but who just won re-election and secured a seat Zimmer doesn't want to have to worry about in a special local election.
Then there's the freeholder situation in West New York, which is arguably the most interesting of the three.
Alleging a hacking conspiracy, incumbent Freeholder Jose Munoz was the government's star witness last year against West New York Mayor Felix Roque.
Roque survived the trial, absolved of all charges.
He resurfaced in Town Hall amid murmurs of payback.
Conveniently, former Mayor Silverio "Sal" Vega continues to run around town telling people he's running for mayor against Roque.
Two sources told PolitickerNJ that Roque has a real play here to get rid of Munoz.
He can pick Vega for freeholder in exchange for getting Vega to agree to not run against him.
Munoz is still making a play for the line, sources say, arguing that the county party organization can avoid a fight if it picks him, but Roque doesn't want his Facebook tormentor around anymore.
He would rather install Vega, the man he conquered, than bare Munoz, the man who created a woman to bring him down.
It's volatile.