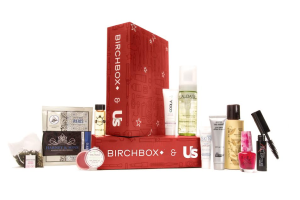 Birchbox Hits the Red Carpet
Never ones to miss out on a culturally relevant partnership, Birchbox announced today that it's teaming up with Us Weekly in honor of Oscar season. Launching in February, the Oscars-themed Birchbox will feature items hand-picked by Us Weekly Beauty Director Gwen Flamberg and inspired by the most popular looks on this year's red carpets. Following the awards show, on March 2, Birchbox will be offering Oscars fanatics even more red carpet-inspired goodies in its online "Get the Look" shop. Will J. Law be for sale?
TravelWits Takes Off 
TravelWits appeals to the niche market of people who a) love vacationing and b) abhor spending money. The newly launched site finds ways to save you money on long-distance travel by combining flying with driving. As TravelWits co-founder Maxim Likhachev said in a press release, "Right now, a nonstop flight from Pittsburgh to Los Angeles is over $600. Using TravelWits, you can see that you can also drive 177 miles to Columbus, Ohio, and take a nonstop flight from there for $199." On the bright side, you'll never have to race to make airport connections again. On the downside, you might have to drive to Columbus, Ohio.
3-D Printing Gets Cookin'
Up your cupcake game by a landslide with the latest offering from 3D Systems: a 3-D printer that prints edible materials for pastry chefs, coming in late 2014. According to a press release, the ChefJet 3D Printer Series produces materials of "a variety of recipes, including chocolate, vanilla, mint, sour apple, cherry and watermelon" and will be available for under $10,000. We hope this doesn't put Cake Boss out of business, because then what would we binge-watch on Sunday afternoons? (J.K., Say Yes to the Dress is way better.)
Confide Is Fancy Snapchat
Former AOL executive and Patch founder John Brod launched a new app today, along with fellow co-founders Howard Lerman (of Yext) and entrepreneur Dan Sutera. It's called Confide, and it's kind of like Snapchat, except "optimized for professionals and business people," Mr. Brod told Reuters. Using Confide, fancy, rich people can send each other temporarily viewable messages on topics like potential law firm hirees, Nobu lunch reservations and outings that involve yachts.
Learn to Pitch Like a Pro
Tomorrow, start a three-session workshop series at General Assembly called Sales Bootcamp: The Art of the Pitch. You'll learn all about pitching your totally revolutionary new start-up idea (hint: don't use PowerPoint) and ultimately come away with a two- to three-minute finely crafted pitch, perfect for that next elevator ride you happen to take with Mark Zuckerberg.
Little Eye Labs Gets a Big Lift 
Indian start-up Little Eye Labs has announced it has been acquired by Facebook—to the tune of $10 million to $15 million, TechCrunch reported. The start-up, which makes a program that analyzes the performance of Android apps, is the first Indian company to be acquired by Facebook and will soon pick up and move their offices to Facebook headquarters in Menlo Park, Calif.