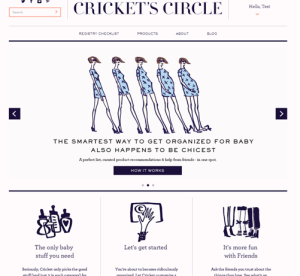 Cricket's Circle hops in It's the question that plagues all new parents: do I get my baby an iPad compatible play chair, or not? Thankfully, you'll never have to answer those hard questions again with Cricket's Circle, the new site that helps parents know the best products to buy for their new babies—and what they don't need to buy at all. Take a quick quiz, and Cricket's Circle will tailor a list of baby products based on your personal lifestyle. Connect with friends to see their product recommendations, too. Founder Rachel Blumenthal has worked with YSL and Warby Parker—and she also recently had a baby—so we trust her taste.
Epic! opens its cover Kids these days—all they want to do is play their Angry Birds and Candy Crush, amiright? Well they might start reading again, now that iPad app Epic! has launched. For $9.99 per month, Epic! gives kids unlimited access to a library of eBooks designed specifically for readers twelve and under. "Kids love books, but they spend most of their time playing games and watching videos on their tablets rather than reading," said Epic! cofounder Kevin Donahue in a statement.  "As a dad, I wanted to build a product that would allow children to continue using the devices they love, but engage them with an epic reading experience." Props to the company for raising $1.4 million in funding, and also for being so up-to-date on the craaaazy lingo of today's youths.
Staffing up at Hang w/ Hang w/, the app that lets you "hang with" your friends and followers via live-streamed video, has just announced that IBM's Keith Angell has joined its board of advisors. "I've been greatly impressed by both the Hang w/ technology and by the vision of management," Mr. Angell said in a statement. "I'm looking forward to helping the team maximize their opportunity in the exciting and rapidly growing social media space." Maybe they can reach out to Paula Abdul, Larry the Cable Guy and Lucy Hale, who all comprise the app's very random list of celebrity users.
Party with hardware The New York Hardware Meetup is having a fun-sounding gathering at 7:15 tonight at eBay's NYC headquarters. According to the event description, attendees will see presentations on some kind of fancy shower curtain, a bike navigation system, a high-tech baby health monitor and a "fashion-forward, tough glass water bottle." Plus, there will be pizza and beer.
Movable Ink is on the go Movable Ink, the startup that powers the email marketing campaigns of big companies like American Eagle and Seamless, had a pretty sweet 2013—and this year is looking good too. The company tripled its employee headcount last year, and just last week announced two new acquisitions: Mailrox, a company that turns graphic designs into email messages, and Eastmedia, a software design and development studio.