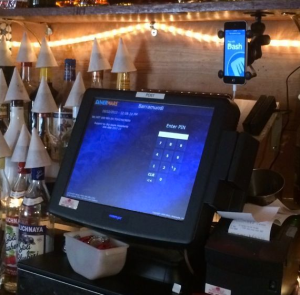 Dash goes deeper No, we don't mean the Kardashian store. We mean the other Dash—the one that lets restaurant and bar patrons pay for their food and drinks through their phones, at designated establishments. The company has just released DASHboard, which they describe as "an iOS app for bartenders and waiters that works in conjunction with Dash—like the back-end app that Uber drivers use." Using DASHboard, restaurants and bars can learn all sorts of strategically helpful information about their customers, like visit frequency and date of birth, so they can bring you free molten chocolate lava cakes and stuff.
Catchafire gets linked Last week, LinkedIn launched a new site for volunteer jobs—and that's big news for Catchafire, the robust volunteer marketplace that supports nonprofits in the hiring of skilled volunteers. Thanks to a sweet partnership, Catchafire's job listings will be posted on LinkedIn's new site, meaning they'll be exposed to LinkedIn's 260 million members. In turn, LinkedIn users who click the postings will be directed back to Catchafire's site, where they can apply for the positions, and—if they get hired—enjoy Catchafire's job support the whole way through. Sounds like a win-win situation to us!
AccelFoods has loaded its plate AccelFoods, a New York-based accelerator for packaged food and beverage companies, made some big announcements today. Besides successfully raising $4 million for its investment fund, AccelFoods has also chosen four budding companies to comprise the very first class of its accelerator program. They picked companies that make Indian food, "alternative nut butter spreads," some kind of canned coffee drink and protein bars made from cricket flour. Good luck, everyone.
Of a Kind is celebrating Of a Kind, the site that connects users with  up-and-coming designers, wants you to know they had a really great 2013. Here are some highlights from their list of accomplishments last year: they joined the seven-figure revenue club (their words, not ours); they've now worked with over 211 emerging designers; they launched this cool Collections feature; their cofounder, Claire Mazur, made Forbes's 30 Under 30 List for Media. Hopefully 2014 goes just as well, if we don't all freeze to death first. 
SeatGeek gets fancy Yesterday, SeatGeek announced the public launch of their Cross-Event Search feature. Now, instead of just being able to find event tickets for specific dates, users can search seat availability across a broad range of dates—perfect if you know you want to see a certain play, for example, but don't care on which day you go see it. As SeatGeek notes, it's also great for scanning all the home games of your fave sports team (Leafs, anyone?), or seeing if seats are available at any of Jay-Z's upcoming back-to-back concerts.  
So what's this Bitcoin thing? Still struggling to understand what this whole Bitcoin thing is? We can't really help you. We think it might have something to do with Doge, or maybe Kanye. If you really want to figure it out, go check out "Introduction to Bitcoin: Disrupting Money" tonight at 6pm at OpenInvo. The class is taught by Todd Gillespie, who is "focused on extrapolating the trajectories of new and emergent technology paradigms, with a view towards their impact on the culture and society of the world at large," so he sounds like he knows what he's talking about.