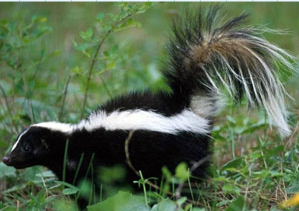 And they say Jersey stinks.
According to eye (and nose) witnesses, more skunks than ever before have been frequenting Central Park.
Some Central Park regulars have claimed that the animals are dangerous and are going after pets. The New York Post reports that a skunk attached a dog last Thursday near West 67th Street, just one day after another canine was sprayed.
Residents are worried about the stinky infestation. "I'm very concerned. I think I'll walk him on the street," Gail Lustig told the Post while walking a friend's pup.
Meanwhile, when speaking to The Observer, Parks Department spokesperson Philip Abramson insists that any increase in skunks is pure speculation. 
"NYC Parks' Urban Park Rangers have not observed any increase in the skunk population," Mr. Abramson said. New York City is the native habitat of the eastern striped skunk, a close relative of raccoons and weasels. They are opportunistic and are drawn to food and litter. 
Geoffrey Croft, president of the New York City Park Advocates, agreed that refuse could be the culprit behind the increased sightings. On top of that, Mr. Croft told The Observer that the park's no-leash policies could be a part of the problem. 
The no-leash policy allows animal owners to let their pets run free from dawn until 9 AM and from 9 PM until park closing. The majority of skunk-on-dog violence has occurred during the no-leash hours, according to Mr. Croft.
"Off leash has certainly been an issue," Mr. Croft told The Observer. "[The skunks are] just another cause for concern on off the leash. [It]'s a very contentious issue."
If the problem is not resolved soon, we may be looking at a run on tomato juice. Getting that skunk spray smell out is no walk in the park.