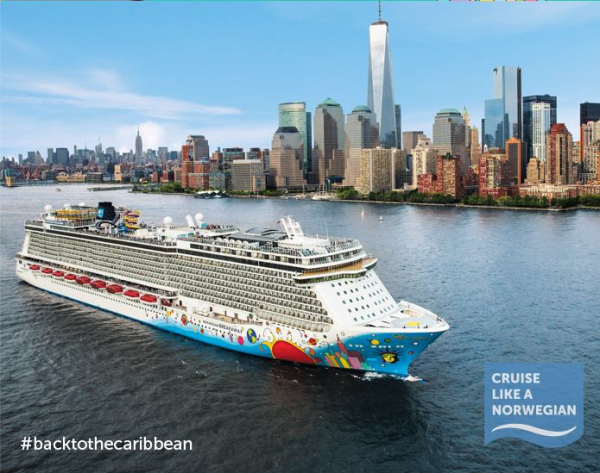 Super Bowl-goers will have their tailgate parties, come hell or high water.
Organizers may have banned tailgating at New Jersey's MetLife Stadium on Feb. 2, but thanks to a beer-themed, 4,028-person cruise ship, the riotous pregame binge-drinking has been relocated to Hell's Kitchen, much to residents' dismay.
A Norwegian Getaway cruise ship will be temporarily converted into an enormous floating frat party from Jan. 30 to Feb. 3, DNAinfo reports. Renamed the Bud Light Hotel, this nautical beer-topia is scheduled to dock at Pier 88 alongside Hell's Kitchen, where it will host concerts from bands like the Foo Fighters, Imagine Dragons and The Roots.
Ticket-holders and V.I.P. guests can expect a boozy, multiday Super Bowl bash. Hell's Kitchen residents are less than excited about their new neighbors.
"We're concerned about the diversion of our fire people, our police officers, as well as the noise that will inevitably irritate people," resident Jean-Daniel Noland said at a recent Community Board 4 meeting. The relations between Hell's Kitchen residents and incoming partiers are already strained. Following complaints from neighbors, Hell's Kitchen gay bar Fairytale Lounge was raided and temporarily closed last month. Noise complaints also brought an early end to Pier of Fear, an electronic music festival hosted in Hell's Kitchen over Halloween weekend last year.
Not only are locals concerned about possible disturbances from the Bud Light Hotel, but community board members claim they received no notification of the party destined to land on their shores. "We are upset that we never heard of this," board chairwoman Christine Berthet said at Monday night's meeting. She and other officials learned of the event through media reports and have been forced to play catch-up with pier managers to obtain more details.
"One of the problems is that we don't know much," Elke Fears, president of the 47th/48th Streets Block Association, told DNAinfo. "If you know what to expect, you can prepare." She, as well as other officials, residents and local businesses, may soon face the unwanted task of managing an influx of partygoers over Super Bowl weekend.
"Noise, noise, noise—it's the fear that we have with any of these clubs that open up; it's people going, getting drunk, making a lot of noise late at night. If the concert is open-air, it's even worse than if it was on the pier," Ms. Fears said. "It could be a long four days."