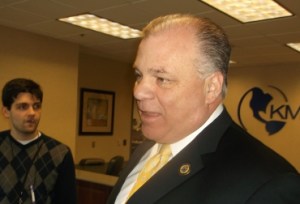 EDISON – If another spat is brewing between Senate President Steve Sweeney and the upper chamber's minority leader, the state's top senator isn't prepared just yet to say whether it will come to fruition.
The state's top lawmaker has yet to send out a committee assignment blueprint for the next legislative session that begins in less than two weeks and he's unwilling to say for the moment whether he'll make the committee assignments himself.
"We haven't done that yet," responded Sweeney when asked whether he announced the committee makeup.
"We don't always send them out his early, but we'll get them out in time," he said. "You get the letters out, you go to your committees … and everyone serves on the committees they're assigned."
The question of whether Sweeney will exert complete control over committee assignments comes a short time after the Senate president slashed $50,000 from Senate Minority Leader Tom Kean Jr.'s (R-21) personal office budget. Sweeney also used his position as Senate president to slash funding for Senate Republicans who were loyal to Kean while also increasing funding for legislators who attempted to oust Kean from his leadership position.
Similarly, Sweeney could use his leadership position to decide which lawmakers serve on which committees.
"I have the authority now and I've done that every year since I've been Senate president," he said.
However, the Republican minority leader usually hands the Senate president his committee requests after Sweeney decides the blueprint. The question of whether Sweeney will go along with Kean's request is yet to be determined.
And Sweeney wouldn't give an answer when pressed on Wednesday.
"He gives a recommendation," Sweeney said. "But it doesn't mean I have to agree."
When pressed to say whether he would agree with Kean's recommendations, Sweeney balked at an opportunity to answer.
Sweeney spoke to reporters in Edison while attending the reorganization of the town council following the recent election of a new mayor and three council members.
The South Jersey lawmaker has been making a steady amount of appearances as of late in northern cities and towns at the same time he's rumored to be mulling a gubernatorial campaign (see The Southern Strategy and the Road to Drumthwacket Victory).
"Middlesex is a very strong Democrat county and I'm the president of the Senate and I'm here supporting my colleagues," said Sweeney, adding, "Nothing more, nothing less."