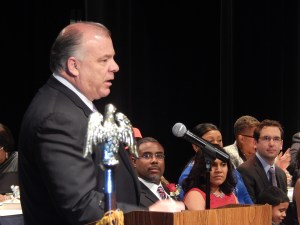 EAST ORANGE – On the first day of 2014, Democrats quietly but sharply absorbed the deepening lines of rivalry between Senate President Steve Sweeney (D-3) and Jersey City Mayor Steve Fulop, who both attended this afternoon's swearing-in of East Orange Mayor Lester Taylor.
The intensity between Sweeney and Fulop at this point means that every time the two men speak at an event, like this one at the Cicely Tyson Community School of Performing and Fine Arts, their remarks carry undertones of deep and abiding contrast.
The two Democrats have their eyes on succeeding Republican Gov. Chris Christie, and each stands in the other's way.
Fulop recently criticized party leadership in Trenton for not fighting Christie harder and today, Sweeney used the proximity of Speaker Sheila Oliver (D-34) to slap at that attack.
"Great things have happened," Sweeney said, gripping the podium onstage as Fulop and Oliver looked on. "Working people got a raise."
He was referring to the minimum wage increase, championed by Oliver, which went into effect today.
When he went to the mike after Sweeney, Fulop went heavy on Taylor love.
"We are here to acknowledge a young attorney," said the mayor of Jersey City, and sprinkled in additional local love dust, quoting homegrown Queen Latifa for EO brownie points.
When a child singer finished his offering, Sweeney leaped out of his chair to lead the standing ovation.
Fulop delighted in being able to point out in his remarks that he was an "early" supporter of Taylor's.