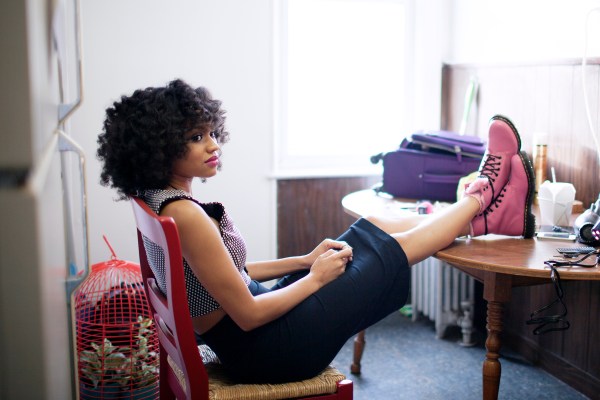 "Oh, broccoli rabe!" Tanisha Long says nervously with Valley Girl inflection. She reads it on a menu that needs to be relaminated and has too many pages.
"Broccoli rabe," she explains, adding that she used to be a server and you'll have to excuse her sudden flourish, "is very similar to broccoli, but it's also very bitter, kind of like a mix between broccoli and spinach, it's on a stem, and it's really yummy." This impression of her old self makes her giggle, which, at its end, is followed by a little girly snort. "Fancy broccoli is what I like to call it."
The server thing was a means to an end, in case you didn't know. Ms. Long is one of the stars of Girl Code, the addictive, talking-heads show that has helped transform MTV's gender-obsessed topical series into a comical art form.
Girl Code, creator Ryan Ling's no-brainer of a spinoff of the series Guy Code, serves up hilarious dispatches of womanhood delivered by an array of female comics in a format that invites freestyle riffs.
Prompted to discuss male genitalia, for instance, Ms. Long memorably said that boners are like birthday cake that you eat with your vagina. In a running meme on Twitter and Instagram, she often makes open appeals to the actor Ryan Gosling. Recently, she used the hashtag #ThisCouldBeUsButYouPlaying with the actor's name in a tweet; "us" was a picture of X-Men characters Wolverine and Storm.
A healthy portion of Ms. Long's material comes from her actual relationships. One friend and writing partner calls her the Drake of comedy for her penchant for using her exes as fodder. "She's like, 'It's because you just can't move on,'" Ms. Long said. "I'm kind of O.K. with it."
Ms. Long's days now are packed with auditions with networks in the thick of pilot season. Of all of her projects, it's the exposure she has gotten on Girl Code that is getting her noticed more than anything else.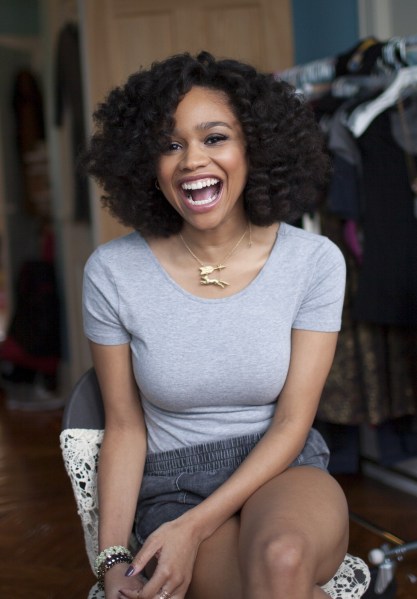 ***
HER ROAD TO rising comedy star wasn't atypical for a budding comic. She worked as a server in between auditions, classes at Upright Citizens' Brigade and experimental projects with Comedy Central and MTV.
Her first big break was a callback for the Tina Fey and Paul Rudd film Admission, which, though a flop, introduced Ms. Long to silver-screen audiences. It was big, if nothing else, because she had dreamed of working with Mr. Rudd and Ms. Fey. "I had a scene with Tina and Paul. I got to say a bunch of cool feminist stuff, which I was so happy about," Ms. Long said. "So many times, the first time a woman of color is on screen, they're naked sliding down a pole. … Nothing against strippers, because I'm not here to judge anybody, but I didn't want that to be the first time I was on camera."
Soon after shooting Admission, Ms. Long returned to her sketch comedy roots. She shot Failosophy for MTV, and Girl Code was soon to follow. Stand-up comic and Guy Code cast member Damien Lemon was in Mr. Ling's office after taping one day in 2012, when he told his visitors he was doing a spin-off of Guy Code and were in search of good-looking women who could be funny on camera.
Mr. Lemon immediately thought of Ms. Long. They two had played a couple in an MTV pilot called Disruption, which didn't get picked up. But Ms. Long's improv experience and wealth of YouTube material made a good impression on Mr. Lemon, who connected her with the Girl Code creator.
"We had ill chemistry," Mr. Lemon recalled by phone. "When you do any kind of pilot, you meet talented people. But working with someone like her you kind of say to yourself, 'I need to stay tuned to what they're doing.'"
"What I liked most about her, though, is she was proactive," he added, embarrassed by a suggestion he played a role in Ms. Long's recent success. "She was putting up YouTube videos where she'd act out the parts to every character in a show. When you put yourself in a position to be seen like that, it says a lot."
Mr. Ling himself was impressed with what he saw on Ms. Long's website but said it was her uniqueness that set her apart. "We always look for original voices," he said. "She came in and sat down for 30 minutes. She was very hilarious and very distinct with this high energy, and we found early on that her training in improv is really a different comedic muscle than what we were offering."
Girl Code was an instant hit and was renewed for a second season in June 2013. Season one averaged a 1.2 million in total viewers ages 12 to 34, ranking as the No. 1 original cable series in its 10 p.m. slot on Wednesday nights. It ranked as the No. 1 show across all TV in its time slot with women in the same age range. "My fame is really specific," said Ms. Long. "Teenage girls seem know who I am, and some older girls do, and that's really it. So I can be walking around, and no one will bother me, but if I walk into, like, American Apparel or Urban Outfitters, the entire staff there knows me."
Ms. Long was born and raised in West Philadelphia. Her mother, Dorothy Long, never let her hang out with a group of girls on the block who made trouble in the neighborhood. Dorothy was a school "community coordinator," whatever that is. ("They liked her so much that the schools would just make up positions for her," Ms. Long said.) She worked at every school her daughter went to, which made it hard for Ms. Long to make friends.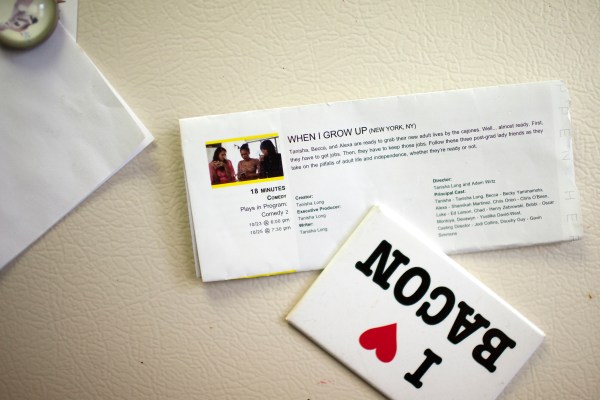 "Kids would act out in class, and my mom would go their house," Ms. Long said. "So all these parents loved my mom, but the kids didn't. So it was really awkward for me to make friends. Of course, now they love her. She was just very suspicious of who I hung out with, so I turned out really weird," she said. "I mean, I do comedy now."
Ms. Long spent her time watching Saturday Night Live and In Living Color, which inspired fly girl fantasies that were never actualized. "I wanted to be a dancer, but that didn't pan out, because my mom was, like, 'You can't go to a dance high school!' But I was, like, 'You've been putting me in dance my whole life!' So I went to a normal high school and just cheated my way through it. I didn't go to class, copied off people. I have no idea how I finished high school. I did though."
Ms. Long is reverential about comedians in the way that comedians tend to be. She once met Dave Chappelle working at the Soho Grand Hotel; she told him she wanted to be a comedian. He told her to sit down. She told him she wanted to be on SNL, an opportunity recently given to comic actress Sasheer Zamata.
Mr. Chappelle told her he auditioned and didn't get a spot. "He schooled me. He said, 'I auditioned for SNL, and I didn't get on, but look what I did.' "
It's partially why Ms. Long wasn't nearly as concerned by Kenan Thomas' statements that the black girls who had auditioned for SNL were always the ones who weren't ready. She points to the careers of Keegan-Michael Key and Jordan Peele, neither of whom are SNL alums.
"What they're doing on their show they'd never be able to do on SNL. "If SNL does happen one day, it would be great, but if it doesn't, I'm going to keep doing what I'm doing. It's not like if it doesn't happen I'm giving up on my career."
"I don't want to say anything bad about Kenan," she said, as if talking about her big brother, suppressing a full-throated laugh. "Of course, I may have on Facebook already."