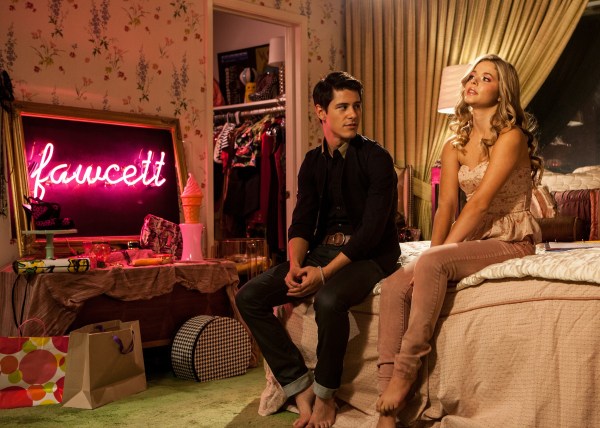 In this cheesy, brain-dead teenage effort to join the "Is everybody gay?" movement fueled by TV sitcoms, three competitive high school bad girls decide the hippest thing to own since red smartphones and titty tattoos is a G.B.F. (i.e., gay best friend). It's the latest thing in sexless accessories, like Glee without songs. I'm all for teenage liberation and social conscience raising before college over ignorance, bullying and closeted terror. But this "gays are cute and fun, so let's treat 'em like bichon frisés" idea is a terrible basis for a movie, and the bitch queens of both sexes in G.B.F. are as witty as an S.T.D.
When a nice, intelligent, clean-cut boy named Tanner (a talented but wasted Michael J. Willett) is inadvertently outed as gay, the three most popular girls in school adopt him as a mascot to fuel their leadership potential. In the frenzied search for their very own pet homosexual, the three girls—wannabe diva Caprice, faux goody-goody redhead Ashley and gorgeous blonde Fawcett, named after you know who because she won best hair three years in a row—take him on as a homework assignment. They dress him in purple and pink, give him a hair style that makes Liberace look like the winner of the Heisman Trophy, introduce him to an app for finding him potential bedmates in the same geographical radius as the school and even protect him against the campus jocks. "Touch him again," they warn, "and you won't be able to get as much as a half-assed hand job!" (So much for humor.) This is appalling to Tanner's best friend, a closeted powder puff named Brent (Paul Iacono), who secretly covets Tanner himself but lacks the cojones to come out. So he turns on his pal and tries to destroy his chances for prom king by organizing an anti-gay prom that shuns homosexuals. (So much for conflict.) Everything backfires, everyone ends up in bed with someone you never expect, and then the prom! The less said about that the better.
Needless to say, none of this makes one lick of sense, especially the character of Tanner, who doesn't consider himself typically gay at all and actually looks and acts like the straightest boy in the school. Yet for reasons only the filmmakers know, he goes along with the "fabulousness" of his makeover without putting up much of a fight. The three "fashionistas" turn him into a parody of Paul Lynde, he's willing to choose them over his old nonjudgmental friends, and he turns down the handsomest boy in school (Taylor Frey), a repressed Mormon so frustrated he literally throws himself at every guy at the prom, ending up naked in the backseat of a car with another hunk, declaring, "For a face like yours, I'd out myself to the entire Mormon Tabernacle Choir." There's even a cat named Anderson Coo-purr. Worse still, we are subjected to the nauseating humiliation of screechy-voiced Megan Mullally, from Will & Grace, as Brent's well-meaning mother from hell who hits up her gay son for poppers, buys them matching Capri pants and tries to bond by staging a "gay movie night" on the sofa as they watch Brokeback Mountain.
I mean, who thinks up this stuff? In this case, it's an incompetent director named Darren Stein and a cliché-driven screenwriter named George Northy, who actually writes dialogue no self-respecting human being of any persuasion could find tolerable. Example: "What's a sodomite?" "I think it's like a dust mite, only with sod." I guess I've seen worse teen sex comedies, but it's rare to encounter one this stupid.
G.B.F.
WRITTEN BY George Northy
DIECTED BY Darren Stein
STARRING Michael J. Willett, Paul Iacono and Sasha Pieterse
RUNNING TIME 92 min.
RATING 1/4