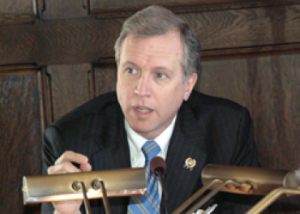 News today that a senior staffer of Gov. Chris Christie's told Port Authority officials that it was "time for some traffic problems in Fort Lee" jolted the Trenton political establishment and recalibrated the race to succeed the sitting Republican governor.
Christie just won re-election, but two highly visible Democrats have already begun shoring up support for a statewide run, in gear with a particular urgency in case the governor leaves office early to run for president.
Insiders have also mentioned others.
But according to Democratic sources, the political stock of one name from Middlesex County just rose considerably.
This list is fluid, but right now it looks like this…
1. Steve Sweeney (D-3), Senate President
Strengths – Close ties to Building Trades and key Democratic Party County chairs; has a good power projection platform as Senate president.
Weaknesses – Perceived closeness to Gov. Chris Christie if the Bridge-gate scandal deepens; it's hard to leverage statewide dominance out of South Jersey.
2. Steve Fulop, Mayor of Jersey City
Strengths – A Wall Street trader turned Iraq War Marine turned conqueror of the local party machine, the mayor has a story to tell and tenacity for politics that in less than a year has moved him to the forward position of gubernatorial contenders. The population-heavy north wants a champion to check the continuing narrative that South Jersey owns the state.
Weaknesses – He has only been mayor of Jersey City for a few months.
3. Assemblyman John Wisniewski (D-19)
Strengths – As chairman of the Assembly Transportation Committee, he played the leading role in compelling Port Authority officials to go before his committee; his use of subpoena power cracked open the case. What Wisniewski arguably failed to attain as state party chair, he negated with a command performance as committee chair. Tenacious, he has the most to gain if the scandal unravels the sitting governor.
Weaknesses – If he runs for governor, he has to first secure allies in his home county of Middlesex, where he has long struggled to stay secure in the midst of an intra-party war.
4. Elizabeth Mayor Chris Bollwage
Strengths – The 20-year veteran has a record of success in Elizabeth relative to other urban New Jersey mayors. He was a frequent and emphatic critic of Christie's and Sweeney's throughout the pension benefits overhaul championed by both the governor and the Senate president. In contrast to Fulop, Bollwage has the ability to argue long-term success.
Weaknesses – With no media outlets dedicated to 24-7 coverage of Elizabeth, Bollwage has developed a shoot-from-the-hip style that could put him off-balance when surrounded by a media hoard and the glare of intense scrutiny.
5. Jonathan Hornik, Mayor of Marlboro
Strengths – In his term and a half as mayor, Hornik has impressed both Democrats and Republicans alike with his executive ability. His record includes eliminating and consolidating local government waste and installing police officers in every district school.
Weaknesses – He hails from suburban Monmouth County, and lacks the deep political connections up north that a statewide brand needs to make a credible run. He's also a victim of the dual-office holding ban that once gave mayors the chance to build ties in Trenton. Few in the political establishment know Hornik. Those who meet him superficially get a Greenwald vibe.
6. Frank Pallone, 6th District Congressman
Strengths – The veteran Congressman from Long Branch has progressive street cred, a record of fighting Christie going back to his questioning of deferred prosecution agreements when the governor served as U.S. Attorney, and fundraising ability.
Weaknesses – His short runway shot at statewide office last year was a bust.
7. Cory Booker, U.S. Senator
Strengths – He's a winner. His numbers in Essex and Bergen alone should give any other candidate running statewide pause. If he gets bored in Washington and craves executive attention, Booker also has the ability to present himself as a game-changing alternative to a South-North jam-up in the form of Sweeney versus Fulop.
Weakness – Newark's a mess. The city suffered 111 homicides last year and is in a financial freefall. A serious and well-funded challenger to Booker has plenty to work with if he wants to go after the senator's soft underbelly.
8. Bob Menendez, U.S. Senator
Strengths – The veteran is arguably the most proficient all-around Democrat in the state, equally adept at politics and policy. Like Booker, he has the statewide presence to be able to insert himself as that larger-than-life presence in a statewide gubernatorial contest if Democrats can't otherwise find that person.
Weaknesses – The consummate creature of Washington, D.C. politics shows no sign of wanting to take up residence in Drumthwacket.
9. Lou Greenwald, Assembly Majority Leader
Strengths – The politically savvy Greenwald has a strong position in Trenton and stands ready to go if region-mate Sweeney stumbles in a statewide run. Greenwald as a statewide brand is assisted by the common perception that he has no way up in the Assembly if state Sen. Donald Norcross (D-5) makes a move to succeed Sweeney as Senate President. If Norcross is South Jersey's answer to extending Senate power, the lower chamber will require a northern counterpart, which leaves Greenwald without a seat of power. That puts more pressure on the ambitious Dem to run statewide.
Weaknesses – Like Sweeney, he combats the regional disadvantage of being from relatively sparsely populated South Jersey. Unlike the sitting Senate president, he has not traveled widely and avidly in preparation for a gubernatorial run if the game changes.
10. Milly Silva, SEIU Labor Leader
Strengths – Last year's losing LG candidate, Silva impressed party members in her debut performance on a statewide stage. A Latina who refused to crawl away and lick her wounds after the loss, the visible and game Silva shows clear signs of hungrily hanging around to be a player.
Weaknesses – Outside of labor, no one knows her.