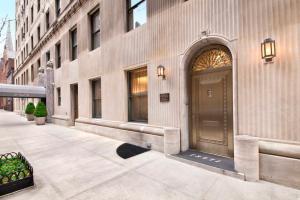 Why exactly the ground-floor Unit #C at 740 Park Avenue came to break off from the duplex just above it to become first a stand-alone two-bedroom apartment, and then a doctor's office, is something of a mystery. "It was ages ago," said Judi Lederer of Town Residential, who has been tasked with selling the property, which just hit the market asking $5.85 million. "Nobody knows for sure."
Michael Gross, author of 740 Park: The Story of the World's Richest Apartment Building, told us that #C was originally a segment of one of three triplex maisonettes, all of which were broken up in the 1930s. "Its original owner was Sherbourn Becker," he said. A Wisconsin native, Becker made his fortune in railroads, shipping and banking, and had a son who lived in a duplex on the 12th and 13th floors. But by September 1940, Mr. Gross said, the ground floors of all three maisonettes had become professional offices. 
Unit #C is, for the moment, unique—the only non-residential property on sale in the illustrious building, whose address, Ms. Lederer told us, has done nothing to discount the asking price. (Also available at 740 Park are a 14-room affair on the fourth and fifth floors, for $29.5 million, and a massive duplex belonging to Kent Swig and his former wife, asking $32.5 million.)  A 2,100 square-foot spread that has been used for more than 30 years as an orthopedist's office, the unit offers two private entrances from the street, four bathrooms, five exam rooms, a physical therapy area and an ample waiting room. In keeping with locale mores, the listing suggests that #C would be "perfect for a plastic surgeon" or a dermatologist. But Ms. Lederer was quick to point out that it could also make a beautiful apartment, which would, of course, require rezoning approval from the co-op board. (The current owners of the duplex upstairs have shown no interest in reuniting with their neighbor below—after all, who wants the hoi polloi peering in your windows?) 
Should the property attract commercial buyers, Ms. Lederer said, they would, like residential applicants, have to submit to the board's review. But the process would likely be less onerous than for would-be residents. "It wouldn't be quite the same," Ms. Lederer told us. "I doubt [that there would be the same level of scrutiny.] It's a different process."
But the broker seemed to hold out hope that applications might be avoided altogether: "It would be a great opportunity for somebody who already lives in the building," she said. "It could be a huge storage space. Or it could be a personal office. It could be good for all sorts of things."
Should David Koch need a place next year to stash all that holiday walk-around money he likes to distribute to the building's doormen, for example, Unit #C would be a most convenient option.