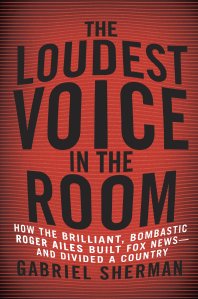 The publication of The Loudest Voice in the Room, Gabriel Sherman's unauthorized biography of Fox News chief Roger Ailes, was always going to be controversial.
But in just a week, the media hoopla surrounding its release has surpassed any book in recent memory.
It started before the biography's early release last Tuesday, a week before schedule, owing to intense media interest.
Mr. Sherman did a publicity circuit that most authors only dream of: an appearance on CBS This Morning, a long segment on Brian Stelter's Reliable Sources on CNN, The Colbert Report, a pretty positive review in The New York Times Book Review by Slate's Jacob Weisberg, a mention on Fresh Air, an excerpt in New York magazine (where Mr. Sherman is a contributing editor and writer) and an article on The Daily Beast.
Such was the scope of the media blitz that Random House took the unusual step, in these lean budgetary times, of bringing in outside help to seed excitement, enlisting powerhouse communications firm SKDKnickerbocker.
But notably absent from the coverage has been Fox News itself, which has been largely silent since the book came out. This is a marked change from the network's response prior to the book's publication. After the network head declined to participate, the notoriously strict P.R. department went on the offensive, first giving author Zev Chafets access to Mr. Ailes for a competing biography that came out last year (and was criticized by outlets like The New York Times for a lack of fairness and balance), then attacking Mr. Sherman's sourcing, credibility and lack of access. Even Fox personalities got in on the action over Twitter.
"I found the hysteria in the months and years leading up to my book very revealing," Mr. Sherman said. "I find it very telling that all of the sudden they've just gone silent, which is indicative of the control Ailes has over conservative media."
It wasn't just Fox's coverage that changed. By the end of the marathon week, the prepublication hype by outlets to the left of Fox took a negative turn as reviews piled up.
First, on Slate, cantankerous media critic Michael Wolff wrote a takedown of Mr. Sherman's book (and, indeed, of a whole generation of writers, many of whom, like Mr. Sherman, began their careers at this newspaper). But then, Mr. Wolff, who wrote a biography of Rupert Murdoch, had already complained about his lack of access to the book in his USA Today column. 
On Sunday, the Times' Janet Maslin savaged the book, calling it "tepid," "disingenuous" and a wasted opportunity. The New Yorker's Jill Lepore compared Mr. Ailes to William Randolph Hearst and the biography to biographies written about the 1930s press baron.
The comparison is not surprising, considering that Mr. Sherman himself draws on parallels between Mr. Ailes and Hearst's fictional alter ego, Citizen Kane. (An early, possibly apocryphal story about Mr. Ailes is called his "Rosebud" moment.)
Asked about the audience for the book, Mr. Sherman said: "I see the reader of this book as anyone who wants to understand the second half of 20th-century American history. News junkies and political people too but really anyone who wants to know about this Citizen Kane-like character at the center of my story."
Ultimately, the real test will be whether the publicity turns into sales—a question for every book, but especially one with so much buzz.