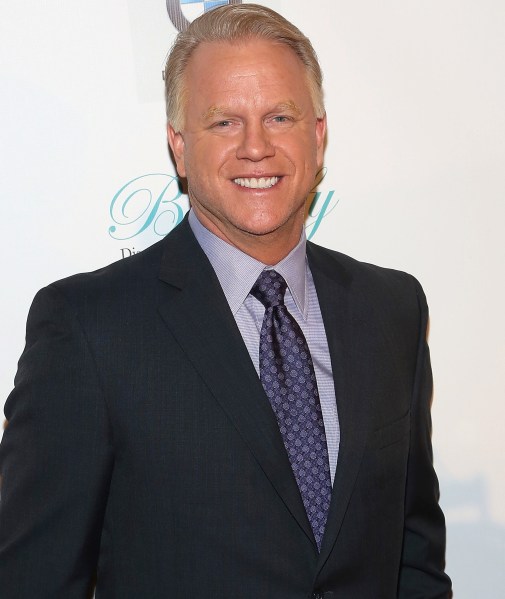 Yesterday afternoon, celebrities, athletes and comedians gathered at the Waldorf Astoria to publicly humiliate the most reviled man in football, Boomer Esiason, in a Friars Club roast.
Well, maybe not the most reviled—it's hard to hate someone who started a charity to fund research to cure cystic fibrosis, a disorder that affects Mr. Esiason's son, Gunnar—but a roast gives you license to really let someone have it.
"I'm going to get killed today," said Mr. Esiason, the former star quarterback of the Cincinnati Bengals and a co-host of the morning radio program Boomer and Carton in the Morning. "I know what I'm stepping into," he added, bulging out of his suit. "It's not going to be a very nice thing. I have my wife and my son here. It's not going to be good for them to see this."
Before the ceremony, which was hosted by the comedian Jeff Garlin and featured a surprise cameo by N.J. Gov. Chris Christie, who is currently being roasted daily by the press, the Transom canvassed those in attendance to see just how hated Mr. Esiason really is.
"Well, he's left-handed," said Larry King, mulling the question. His eyes widened as he landed on an insult. "I'll tell you what," he said, leaning in furtively. "His name is Norman. No quarterback is named Norman."
Dan Rather was a bit more cautious. "Gosh, it's hard to say something mean about Boomer," he told the Transom. "I guess the meanest thing I can say is he's not very good at predicting the outcome of football games, which is strange for a guy who was such a good player."  
Mr. Rather stopped for a moment and considered what he'd said. "Not only is it the meanest thing I can say about him, but I'm not even sure it's true!"
Le'Veon Bell, the Steelers running back, was attending his first Friars roast. We asked him to make fun of Mr. Esiason.
"Uhhh, I don't make fun of him for nothing," Mr. Bell said guardedly.
But it's a roast!
"I know, but I ain't gonna roast him," Mr. Bell said. "I mean, I love Boomer, he can do what he wants, you know what I'm saying? I ain't got no problems with nothing." 
The comedian Jeff Ross, we thought, would surely settle the matter. 
"You know what?" Mr. Ross said, disappointingly, "a lot of athletes don't have a sense of humor, but I met Boomer, and he has a great sense of humor, and I think he's gonna dish it out and take it today really well."
But what do you hate most about him? 
"What do I hate most?" Mr. Ross said, taken aback. "I don't hate anything about him. I love him for agreeing to do this!" 
VH1's Carrie Keagan was equally polite. "I actually met Boomer last night at the pre-dinner that the Friars have," she said, "and he got up and spoke, and not only is he one of the most genuinely sweet, just really compassionate, nicest people, but he got up there and gave everyone in the room shit. So he can take it and he can give it."
What's the worst thing you can say about him, though?
"Probably mostly that he didn't really ever throw a good pass," Ms. Keagan said. 
We approached the comedian Gilbert Gottfried, who was doing a bad job blending in. 
So, are you for Boomer or are you against him?
"Uhhhh … yeah … well … ummm …," Mr. Gottfried stammered. "If I don't like him, I'm certainly not gonna say it because he could kill me with his pinky." 
But isn't the point of a roast to really lay into somebody?
"I know, but once they can meet you outside and hurt you seriously …," Mr. Gottfried said. "So I might go out and insult him and keep the car running."
Do you even like football? 
"Well, I used to be a football hero," Mr. Gottfried said, "so that's why people don't take me seriously in show business."