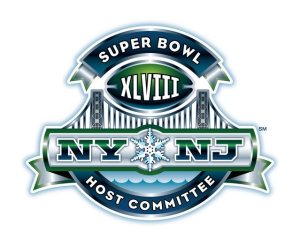 This Sunday, the Big Apple (and, we guess, New Jersey) plays host to the biggest event of the year, Super Bowl XLVIII. As the top-ranked offense of the Denver Broncos faces off against the "Legion of Boom" defense of the Seattle Seahawks, thousands of rabid fans of both teams are going to be flocking to the tristate area, crowding our hotels, bars and restaurants.
But as Vince Lombardi once said, "People who work together will win." Let's make some new friends. We at The Observer have compiled the definitive guide to spotting these Super Bowl bound newcomers among the masses, along with some helpful tips to sparking up that cross-state conversation.
1. Unfamiliar Enthusiasm Over Their Football Team
The easiest way to spot a big-game visitor is they will no doubt be eager, excited and downright enthusiastic about the team they root for. Don't be afraid, New Yorkers, that is a normal thing for fans with teams in the playoffs. You see, enthusiasm is not something New York football fans have been used to the last couple of years. The less said about the Jets the better, and unless the heavens deem the Giants worthy of a miracle season, they seem incapable of making the post-season.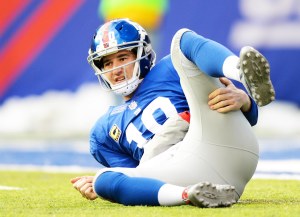 So if you overhear someone even mentioning the phrase "what a good season" or "I'm so excited about our team's future," chances are they are not from New York. Confirmation: if they are proud of their quarterback.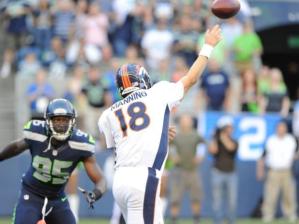 Conversation starters:
"Can we trade Eli for Peyton?"
"What are playoffs, exactly?"
"You know the Giants beat the Patriots in the Super Bowl twice? No, really. Really."
"Seriously, can we have Peyton Manning?"
2. Dazed and Confused
Based on our new visitors' respective hometowns, a lot of them may be more inclined to pack a Super Bowl than attend one. While it may be a coincidence, both teams that made it this year hail from the only two states in the United States that allow recreational marijuana use. No, we aren't suggesting that the most successful U.S. athletes are fueled by pot.
But we may be implying that some Broncos and Seahawks supporters will be in a higher-than-the-Empire State around game time.  Be on the lookout for excessive Super Bowl snacking or philosophical debates about the extra points after a touchdown being necessary.
Conversation Starters:
"Are you going to finish all that taco dip?"
"I get that it is just a game, but what does it all really mean?"
"Is it just me or is Wes Welker's helmet way too big?"
"I see that you are going to literally finish all that taco dip. Respect."
3. Follow the Rainbow
One of the more subtle ways of identifying a Seahawks fan is their constant munching on the popular candy Skittles. This, of course, is in support of their star running-back Marshawn Lynch, who often tastes the rainbow in between plays on the sideline and after big plays. Mr. Lynch's mother, Delisa, told the Seahawks they are his "power pellets."
But the Seattle faithful, or the 12th man as they like to be called, have taken to pelting Mr. Lynch with the colorful candy. Come Sunday, we would not be surprised to see fans pouring into Metlife Stadium waiting to add some color to the green turf.
And we would not argue with them, they have been known to cause earthquakes.
Conversation Starters:
"Marshawn Lynch truly frightens me as a human being."
"But seriously, can we have Peyton Manning?"
4. Non-Broncos/Seahawks fans
Not every out-of-towner is going to be a fan of the two top teams. These people are usually pretty easy to spot, because they will be the most bitter person in the room. A drunk New England Patriots fan ranting that "Tawm Brady" is the greatest athlete to ever live? Check. A Jacksonville Jaguars fan in a Maurice Jones-Drew jersey saying he "just wants to see a Super Bowl before I die"? Definitely.
This guy, who is not exactly aware the Oakland Raiders are not in the Super Bowl?
Bingo.
They are not hard to spot. But once they get going about their favorite team, they are hard to shut up.
Conversation Starter:
"There's always next year, right?"
As you can see, we at The Observer support making the best of the incoming crowd this week. Make some friends, stay warm for the game, and for the love of God, don't say anything bad about Richard Sherman.
[youtube http://www.youtube.com/watch?v=PPD_Lgq7IyI]