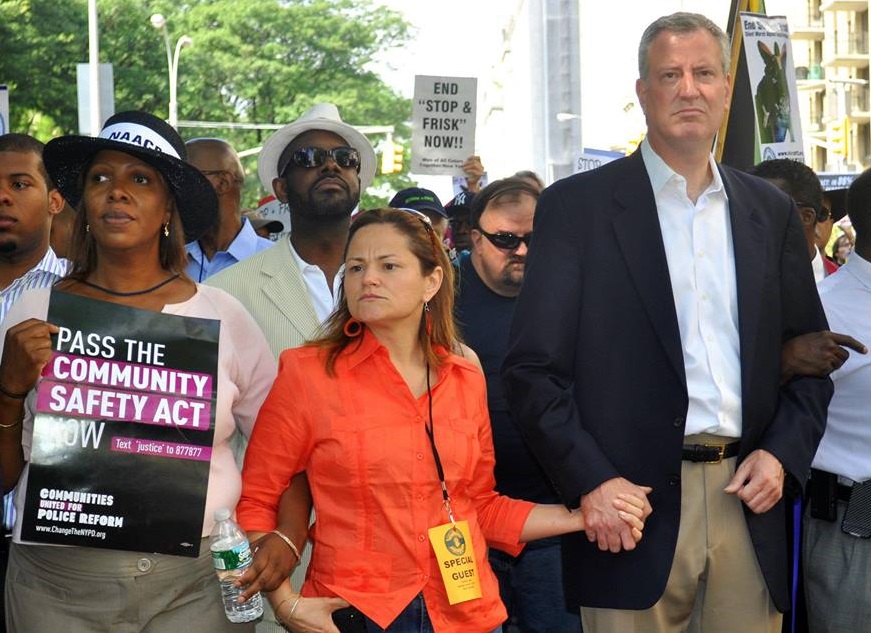 The next public advocate, the city charter-designated thorn in the side of the imperial mayoralty, was singing.
"De Blasio-ooo," crooned Tish James at Bill de Blasio's last campaign stop before he throttled his Republican rival in November. "De Blasio-ooo. C'mon choir! De Blasio-ooo."
Ms. James, swaying and giggling in the Crown Heights section of Brooklyn, was singing a snippet of a campaign anthem crafted by a labor union that fell behind Mayor de Blasio early and loudly, setting the stage for a political year only foreseen by liberal Pollyannas—a changing of the guard that would have been a grand joke in the Bloomberg bullpen a year ago.
But antagonism in the top ranks of city politics is gone, replaced by a Democratic kumbaya moment that has transformed Mr. de Blasio into a liberal hero and his theoretical counterweights—the comptroller, the public advocate and the speaker of the City Council—into adoring fans.
This is the ascension of the super friends: Council Speaker Melissa Mark-Viverito, Mr. de Blasio's hand-picked candidate to succeed Christine Quinn, and Comptroller Scott Stringer, a clubhouse Democrat not known for confrontation. Then there's Ms. James herself, who once described Mr. de Blasio as her "political husband."
But these new, unified leaders of the city have some political observers concerned that the new mayor is entering a landscape devoid of checks and balances, where ideological dissent is quashed or never even allowed to germinate. Mr. de Blasio, a nimble operative who slayed two Democratic machines to persuade the council to pick Ms. Mark-Viverito and drove a populist campaign narrative that Ms. James and Mr. Stringer could seize upon, arrives a conquering liberal hero, à la John Lindsay circa 1965.
"We've never seen a unanimity of opinion like this before—left, right or center," said Mark Green, a former public advocate and longtime de Blasio antagonist, who noted that those outside the fold are more left out than ever. "We've had Democratic mayors and councils, but the Wagner and Koch eras were not as remotely ideological or as split between two New Yorks as now. People in the business community and in more conservative communities are very fretful about how they get heard or get their calls returned."
***
Mr. Green, as public advocate, held an office of limited legislative power that was created to serve as an ombudsman for City Hall. An outspoken liberal, Mr. Green antagonized Republican Mayor Rudolph Giuliani, successfully suing the administration, for example, to obtain information about racial profiling in the NYPD that drew extensive media coverage.
His Democratic successor, Betsy Gotbaum, was more muted in the Bloomberg years, but a Gifford Miller-led City Council served as a counterweight to Michael Bloomberg, replaced later by a more accommodating but still feisty council under Ms. Quinn.
And Mr. Bloomberg had to contend with ambitious Democratic comptrollers in Bill Thompson and John Liu. Mr. Liu aggressively audited the Bloomberg administration, helping to uncover a massive kickback scheme involving the city's payroll. Of course, there was Mr. de Blasio as public advocate, netting headlines for bashing Mr. Bloomberg's pick for schools chancellor, Cathie Black, who eventually resigned after only three months on the job.
Now, the City Council is led by Ms. Mark-Viverito, a former organizer for the same health care workers' union, 1199 SEIU, that spearheaded Mr. de Blasio's mayoral win. The East Harlem lawmaker was one of Mr. de Blasio's first endorsers, and the mayor repaid her by wrenching enough arms of council members, aided by organized labor's pivotal pressure, to grant the liberal firebrand the second-most-powerful post in the city. Despite pledging her independence from the mayor, political observers and those within the council foresee a liberal wave of legislation unchecked by moderate voices.
Ms. Quinn was known for bottling up legislation on her own volition or in tandem with Mr. Bloomberg but managed still to override mayoral vetoes more than two-dozen times on issues including an inspector general for the NYPD and a prevailing wage law. Political observers wonder whether Ms. Mark-Viverito, once a long shot to be speaker and now owing her political livelihood to Mr. de Blasio, will dare venture there.
For legislators who serve in a body that's ideologically aligned with the chief executive, the pressure to conform can be subtle, said a lawmaker who has experienced this dynamic. "With every little thing you question … it'll be like, 'Oh, you're undermining the mayor; the mayor doesn't want this,'" the lawmaker said. "You're afraid to even make the smallest suggestions."
Despite their concern, it doesn't appear that powerful business interests will be frozen out of the new order. Mr. de Blasio maintains working relationships with men like Bruce Ratner, the developer of Atlantic Yards, and Steven Spinola, the president of the Real Estate Board of New York, who told Politicker he was confident Mr. de Blasio would be an accommodating mayor.
But for more moderate and conservative Democrats—not to mention Republicans, nearly extinct now—the liberal dominance may mean more unreturned phone calls and muted voices in policy debates.
"Some people who are used to having disproportionate influence aren't going to have it as much anymore," explained Ken Sherrill, a professor emeritus at Hunter College. "What happened in this election was the majority asserted itself in a way that it hasn't in a long time. People, particularly the very wealthy, who are used to being able to control certain impulses of majority, will find it is harder to do that."
***
Who will have direct access to the new leadership? Most likely, organized labor, to which all four owe a debt. The union-backed Working Families Party, which lends its ballot line to left-leaning Democrats and boasts a highly efficient canvassing operation, propelled Mr. Stringer and Ms. James into power and worked in tandem with the mayor to ensure Ms. Mark-Viverito's victory. The WFP, while not endorsing in the Democratic primary for mayor, was instrumental in Mr. de Blasio's 2009 public advocate victory.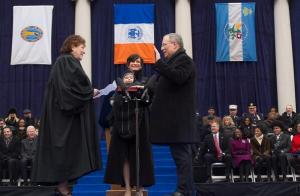 The unions also helped to clear the field for the new mayor by ensuring reliable allies like Mr. Stringer—instead of Eliot Spitzer, for example—held the reins of power, allowing him a spotlight and a path to legislative achievements, namely a tax hike to fund universal prekindergarten that will need a united front in the city to win approval in Albany.
Labor groups are pushing for several pieces of legislation, including a new living wage law that benefits unions and retroactive raises for municipal unions working the last few years without a contract. Even liberal fiscal observers acknowledge the full retroactive raises could greatly strain the city's finances.
Dissenters will not be muzzled, but the other top pols in the city will be hard-pressed, in year one of Mr. de Blasio's reign, to challenge a mayor who is fast becoming a liberal hero nationally, observers said. Ms. Mark-Viverito's rival in the speaker's race, Dan Garodnick, asserted in his concession speech that the council should be a "strong counterbalance to the mayor." The new City Council, applause-happy that January afternoon, did not clap.
For all of their similarities, the veritable rainbow coalition—Mr. Stringer is white, Ms. James is black, and Ms. Mark-Viverito is Hispanic—may not lock arms forever. Ms. James is a voluble left-winger, raging about Bloombergian income inequality like an agrarian populist and sounding less like Mr. de Blasio, a seasoned operative sprung from Hillary Clinton's world.
Mr. Stringer, through a few blockbuster audits, could pave his own way as a fiscally responsible centrist if Mr. de Blasio strays too far left. Ms. Mark-Viverito's position is trickier. Without the mayor making phone calls on her behalf in the speaker's race, most politicos say she could've easily lost out to a rival.
But even if certain perspectives struggle to find a voice, efficiency may win out.
"You can probably get a lot more accomplished if you don't have an adversarial relationship," reflected Ms. Gotbaum, the former public advocate. "Who needs it?"