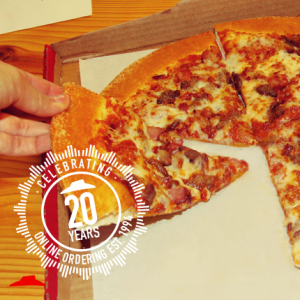 The latest shot in the war of the chain pizza restaurants has been fired, and Pizza Hut is the one holding the smoking gun.
Starting this week, the Hut's Pawtucket, Rhode Island and York, Nebraska locations will sell their pizza by individual slices for the first time. USA Today reports that the slices will cost between $2 to $3 per slice and – if you can even wait this long – take about four minutes to prepare.
"We're seeing the trends for quick and ready products," Carrie Walsh, Pizza Hut's chief marketing officer, told USA Today.
The solitary slices could be seen as a move to bolster sales in a tough time for the Hut. USA Today reports that sales faltered in the chain's first three quarters.
And the competition is fierce, yet cheesy. Along with Dominos and Papa Johns, the big three sell about one-third of America's pizza, according to CNN.
Pizza Hut is now the second of the pizza triumvirate to try their hand at the single life, joining their biggest competitor Dominos. The third, Papa Johns, has yet to join the by-the-slice party, so suck on that Peyton Manning.
This move to corner the pizza chain market calls to mind the recent maneuvering of the famous Cronut of 189 Spring Street, which officially trademarked its name and hybrid croissant-doughnut appearance.
While the Dominique Ansel Bakery successfully put a trademark on deliciousness, it is yet to be seen whether Pizza Hut's individual slices will place it atop the pizza chain mountain.
It will definitely be easier than wolfing down an entire pie. Or so we've heard.