The tweet was maybe two minutes old, but David Greenfield was already walking over to the table of reporters in the City Council chamber to confront the one who had erroneously broadcast he wasn't wearing a tie.
"You don't see this?" asked Mr. Greenfield, the City Council's powerful new land use committee chair. He was clenching the knot of the cream-colored tie beneath his sweater, grinning. "Correct the tweet now." He wanted the political junkies on his Twitter feed, which he constantly monitors, Cory Booker-like, to know he was properly attired for his coronation.
The reporter, an Orthodox Jew like Mr. Greenfield, quickly fired off a new tweet: "Correction: @NYCGreenfield DOES have a tie…"
Mr. Greenfield is the ascendant Brooklyn power broker every developer in town will need to start schmoozing. Developers will now need Mr. Greenfield's approval for landscape-shifting projects, as well as minute rezonings. That the Democrat is a one-time corporate attorney sprung from Joseph Lieberman's world may be a relief, especially after Mayor Bill de Blasio helped pick a council speaker who was arrested at Occupy Wall Street.
"I think the real estate community would take some comfort in David's appointment—he's a practical person," said Kathy Wylde, the president of the Partnership for New York City, a leading business group. "He's not considered particularly ideological or obstructionist in terms of development interests."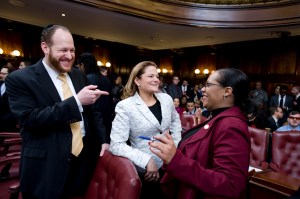 As land use chairman, Mr. Greenfield will be a pivotal gatekeeper, required to sign off on projects of all sizes. In addition to wielding veto power over Department of City Planning rezoning proposals, Mr. Greenfield will also have a direct line to developers, bolstering an already formidable fund-raising apparatus for a future power play—some whisper Congress, if the opportunity arises—that those around him say is inevitable.
"My real goal is to build relationships, deliver for my community and try to strengthen Brooklyn," Mr. Greenfield told Politicker in November of last year. "I hope to have a significant role in that."
Mr. Greenfield's spokesman declined to make him available for interviews after he became the land use chair–a position in which he will eventually have to wrangle with major projects like the rezoning of Midtown east and large swaths of Brooklyn and Queens.
The spokesman, Conor Greene, said the councilman was locked in meetings and getting "caught up to speed." In a statement, Mr. Greenfield said he would bring a "commonsense approach" to the committee.
The committee's last chair, Leroy Comrie, was an unassuming liberal from Queens, who rarely caused friction with the Bloomberg administration as it rezoned the city at a breakneck pace. His predecessor, Melinda Katz, eventually became the Queens borough president, solidifying her pro-development bona fides along the way. Mr. Greenfield, just 35 and allowed to serve in the council until 2025 due to an electoral quirk, may not be so accommodating ultimately.
***
A moderate in a city that is swerving left, Mr. Greenfield could end up as one of the more influential politicians in this city by the next decade, particularly as the Orthodox population continues to boom. For a lawmaker who is cerebral, image-obsessed and nakedly ambitious, according to those who know him well, he is right where he needs to be.
"Greenfield wants to be king. Everything he does is a chess move," a person in the council told Politicker. "He has time on his side, and he's making sure all roads lead to him being on top of the mountain eventually."
Few beyond the city's politicos and Jewish community have heard of Mr. Greenfield. Burly and ruddy-faced, the councilman looks a bit like an Orthodox Jewish linebacker. A thin, reddish beard and a yarmulke reveal his faith, but Mr. Greenfield, with a law degree from Georgetown University, seamlessly navigates the secular world as well.
At least part of his influence stems from his imposing physical presence. "He's a big guy in height, he's a broad guy—he's Chuck Schumer big, L.B.J. big," said one Brooklyn Democrat who deals with Mr. Greenfield often. "When he leans in and he's got two fingers tapping on your shoulder, you're thinking to yourself: This must have been what it was like in the 1950s or '60s working with Lyndon Johnson."
When the chair of the Brooklyn Democratic Party, Frank Seddio, brokered a deal with Mr. de Blasio in December to eventually elect Melissa Mark-Viverito speaker of the City Council, the city's second-most-powerful position, Mr. Greenfield was at his side. Those close to the negotiations recall that one of the first sentences out of Mr. Seddio's mouth was, "We need to take care of David." Some liberals chafed at the idea but understood that was the price of doing business after Brooklyn provided the needed votes.
In Brooklyn Democratic circles, Mr. Greenfield is the unquestioned rainmaker.
The councilman, unlike many of his colleagues, already has access to a vast reservoir of funds that could buoy him in the future. The sleepy strength of the city's Sephardic Jewish community is firmly behind him. Their rank includes the Gindi family, which founded the Century 21 department stores, as well as real estate moguls like Joe Sitt and Joseph Jerome—together, all are worth hundreds of millions.
The community, with many hailing from Syria, clusters in Midwood and is generally distrustful of government, observers say. But Mr. Greenfield is one political figure they know well. Before taking his council seat, Mr. Greenfield, despite not being a Sephardic himself, was executive vice president of the Sephardic Community Federation, lobbying on their behalf in the state legislature on various issues like financial aid for private school children.
The Brooklyn Democratic Party's chief cash bundler is more than willing to share the wealth.
When one Brooklyn pol was in need of funds, Mr. Greenfield showed up on his doorstep with several thousand-dollar checks, no questions asked, according to local Democrats.
"Who are these people?" the Democrat asked, eyeing the names scrawled on the checks.
"Don't worry about it," Mr. Greenfield replied, handing over the checks and walking away.
***
Mr. Greenfield's rise has brought him into bitter conflict with Assemblyman Dov Hikind, a 30-year major domo in Borough Park. For a brief period of time, Mr. Greenfield was Mr. Hikind's chief of staff.
Mr. Greenfield leaped into a 2010 City Council special election as an underdog: He was up against a candidate backed by Mr. Hikind. The assemblyman's pick, the candidate supported by many of the district's rabbis, the traditional vote-getters, was soon routed. Mr. Greenfield won overwhelmingly, crafting a coalition of younger Orthodox and non-Jewish voters.
Mr. Hikind, a firebrand as interested in protecting Israel as fixing potholes on 13th Avenue, took notice. The two regularly endorse competing candidates and wage proxy skirmishes. Both are ardent Zionists, but Mr. Greenfield is far less of a bomb thrower than Mr. Hikind, who once dressed in black face and compared homosexuality to incest.
In a Facebook post last year that was later removed, Yoni Hikind, the son of Mr. Hikind, called Mr. Greenfield a "horrible/dangerous/evil person," someone who "only wants to hurt and intimidate." (Father and son declined to speak with Politicker.)
Both pols, despite their rivalry, share a zeal for blatant self-promotion. On Mr. Greenfield's weekly radio show—he and Mr. Hikind both have local shows—the councilman once spent about 10 uninterrupted minutes bragging about how well he funds senior centers, parks and street repairs.
"I'm actually very proud that The New York Times has said I bring back more money for parks than any other freshman," he boasted in October. "You know it must be true if The New York Times has something nice to say about me."
Another Orthodox Jewish councilman will now share the landscape with Mr. Greenfield. Chaim Deutsch, a fellow Brooklynite, won his own uphill race last year. As with Mr. Hikind, Mr. Greenfield's relationship with Mr. Deutsch is not especially warm, insiders say.
Mr. Greenfield engenders a brand of awe and resentment rarely found among local lawmakers. Allies describe him as a true nuts-and-bolts idealist, laboring on small bore quality-of-life issues for constituents while holding himself to high ethical standards. Aides claim that he works so hard he sleeps only four hours per night.
Several Orthodox Jewish blogs, however, dedicate themselves to skewering the councilman on a regular basis. An anonymous Yiddish pamphlet titled, "David Greenfield: A Failure, A Traitor," circulated through Borough Park last year, charging that he did not seriously defend Orthodox rituals.
"The reality is in the political system today that anybody who's successful or is a strong leader gets pushback. So whether it's Hillary Clinton, Barack Obama or Michael Bloomberg, you're always going to have folks who push back on you," Mr. Greenfield said back in November.
"We do have extremists in the Orthodox community who are out of the mainstream. For years, they have been intimidating elected officials. … Quite frankly, I'm not standing for it."
Critics of Mr. Greenfield also claim he is too self-absorbed, concerned more with consolidating his own power and burnishing his profile. This alleged self-aggrandizing reached bizarre heights when City & State reported last year that Mr. Greenfield and members of his staff penned glowing stories about the councilman under a nom de plume on a friendly Jewish news website. A former staff member claimed Mr. Greenfield, disguised as a reporter named Dov Gordon, regularly wrote and edited stories that extolled his own virtues.
Mr. Greenfield aggressively denied the story.
"Every successful elected official is going to have conspiracy theories," Mr. Greenfield argued. "I'm certainly grateful that they're not out there saying I'm killing people."
"If this is the worst that they got," he added, "then God bless them."