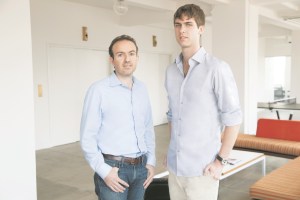 For two years running, the website Artsy threw one of the glitziest parties at Art Basel Miami Beach, the 2012 edition a Chanel-sponsored blowout at Soho Beach House that went until 3 a.m. Just look at Patrick McMullan! Lenny Kravitz! The Brant Brothers! Dasha Zhukova! Wendi Murdoch! Demi Moore! Vito Schnabel! Pharrell Williams!
In December, their comparatively modest dinner was scheduled for the same time as Aby Rosen's party, and not one of those names was in attendance.
One can only read so much into these things, but it wouldn't be wrong to say that Artsy's honeymoon may be nearing its conclusion, and with a new competitor in Amazon, the business of selling art online has changed. A few years into their establishment, Artsy, Artspace and Paddle8, the three start-ups that sought to revolutionize the art market (and seem best positioned to do so in terms of publicity and funding) have now entered the period in which they must solidify their business plans.
"We look at the next year as the moment of truth," said Sergey Skaterschikov, an investor and art market analyst who sits on the board of Paddle8, "which is basically going to confirm whether the business model is scalable to the numbers, the interest, or if it's not. We're really looking to get something like $50 million in turnover. We can't disclose the numbers, but so far we believe they are on the right track."
"Let's see if consumers are ready to buy art in significant numbers online," he added.
Though the sites have sought to differentiate themselves from each other, they have more in common than they don't. Each covets the elusive new collectors, the non-hedge funders, people who previously might have bought art but for reasons geographical or sociological never have. Each touts its gallery connections and has a fashionable brand ambassador in Dasha Zhukova (Artsy), Maria Baibakova (Artspace) and Princess Eugenie (Paddle8) and an office downtown. Investors for all three start-ups seemed to fund the sites with little consideration beyond the size of the art market and the fact that it had not yet found an expression online. Each start-up had a press or marketing representative sit in on its interviews with this newspaper and implied that any numbers it refused to disclose should be assumed as positive. Each has raised more than $10 million for their endeavors ($14.5 million for Artsy, $10.5 million for Paddle8 and $12 million for Artspace), and while representatives for Artsy and Paddle8 said they aren't looking for new funding in the immediate future, Artspace CEO and co-founder Catherine Levene, former COO and general manager of Daily Candy, said her company certainly is. "If someone tells you they're not, you know not to believe half the other things they say!" she laughed.
In the United States, the top country for all these sites, Artspace led on unique visitors with 42,795 unique visitors in November 2013, the latest traffic numbers available on the Web traffic site Compete. This was followed by Artsy, which hit 27,627 (its traffic possibly hindered by the fact it had to change its URL in early 2013 to Artsy.net, since its older, trendier URL Art.sy was technically based in Syria), and then Paddle8, which had numbers too low to be displayed on Compete. By comparison, the auction house Christie's had 133,426 that month, and Sotheby's had 60,128.
Of the three, Artsy (which counts Observer Media Group board member Josh Kushner as an investor) has made the greatest strides in finding revenue in that its initial mission was the least concerned with making money. Its original goal concerned the development of its "art genome project," which took its inspiration, linguistic and otherwise, from Pandora. If a user tells Artsy he likes "irregular curvilinear forms," Artsy would then find other artworks that offer them, by the likes of John Bock and Alexander Calder.
"What's exciting now as we enter into 2014 is you're sort of pushing a boulder up a hill," said Artsy's Zuckerbergian CEO Carter Cleveland, 27, who founded the company at Princeton. The boulder, he said at the company's offices just below Canal Street, has started to roll down the other side (the boulder being the site's ability to make money).
Today, Artsy is more of a listing service, with its 50 employees using the company's heredity research to match available works at galleries around the world with the preferences of its users. Five months ago, the site began to charge galleries for the privilege of appearing on Artsy, $400 to $1400 per month, with better placement on the site for those who pay more.
The new model replaces one whereby the company charged 1 to 6 percent commission on sales made through the site, which Mr. Cleveland and his president and COO, Sebastian Cwilich, admit wasn't ideal. Though Artsy can, to an extent, track an introduction made between a potential collector and a gallery through the site's introductory form emails, there was never any way to tell if the sale had actually been made, which meant the old model worked on an honor system.
"What a great system!" Mr. Cwilich laughed when asked if anyone ever paid that way. "They actually have. Quite a few—a good number of times."
"Most of the time, it's not the gallery trying to stiff us," he said. "It's like, these are long sales cycles, you know?"
The subscription model is new enough that it's hard to say which galleries will decide they don't have room for the fee in their budget—especially since would-be collectors can pick up the phone rather than use the site to connect with galleries—though, Mr. Cwilich said, "the churn has been absolutely negligible." As proof of the site's growing popularity, its head of communications, Michelle Finocchi, provided two line graphs on her iPad, both of which showed what start-ups like to call hockey-stick-growth for the number of galleries seeking to join the site and amount of inquiries sent to galleries using the form email. Both graphs showed quick, relative upticks in recent months, though both also lacked a Y-axis.
"That's the data that we don't put out numbers on," Mr. Cwilich said, when asked about the Y-axis values for the first graph.
"Nice try," said Mr. Cleveland, who had checked his email a few times during the interview. Everyone in the room laughed.
"You had to ask!" said Ms. Finocchi.
"It's not like a huge secret," Mr. Cleveland said. "It's just … you know." The company declined to give revenue numbers or current subscription figures. After the meeting, Mr. Cleveland met with a group of engineers around a ping-pong table to hear what they'd been working on.
The current Artsy model somewhat resembles one abandoned by Paddle8, which debuted first as a site for online exhibitions of available works, curated by the likes of Glenn O'Brien, Marina Abramović, Vince Aletti and Robin Williams and his son, Zak (the name being a non sequitur at the time, though the number 8 was chosen because it's lucky in Chinese).
It saw similar problems in trying to quantify connections with galleries, especially when it came to tracking individual sales.
"It's a leaky bucket," said co-founder Alexander Gilkes, a former Phillips auctioneer whose wife is the fashion designer Misha Nonoo and who has been the subject of personal style-based profiles in W, on the websites for Architectural Digest and GQ, on the male Net-A-Porter website Mr. Porter, on the website companymanvintage.com and on the Gawker advertorial blog Good to be Bad. He also made the Vanity Fair 2013 International Best Dressed List. (None of which has hurt him in terms of finding funds. "I saw him as a potential future Richard Branson," Matthew Mellon, of the Mellon family, said of his first pitch from the 34-year-old Mr. Gilkes, who cold-called him after just a brief meeting in a London Starbucks. "He has a presence. He's very well spoken, went to Eton and so forth. We immediately became BFFs." Ed Zysick of investor Mouusse Partners said they met at a party on a yacht.)
"The primary market model has a much higher education hurdle," Paddle8 COO Osman Khan said, in a small room off the bullpen in their Little Italy offices, which houses most of the company's 40 employees. Advertorial features, the kind still done by Artsy and Artspace, helped, but Paddle8 found the content investment hard to justify. (Artsy has also started listing promotional previews of works available at art fairs, another strategy with dubious profitability that Paddle8 has abandoned.)
Then there was the problem of getting the best material: There's a natural inclination on the part of galleries to use such a site as a way to list things from the back room that you wouldn't want to sell to a collector with whom you have a long relationship, Mr. Gilkes said.
"Where there's a huge waiting list, they're not going to put one of those works up on Paddle8. And it was a lot of effort to continually go back to the galleries and remind them to upload there, and at the time, we didn't have the resources and the team," he said.
This was the idea behind the exhibitions. If Glenn O'Brien asks a dealer for a work, the dealer is less likely to stiff him with something he can't sell himself.
Paddle8 embraced a new model a few years ago that side-stepped that problem. Now, its main business has it post online listings for the kinds of charity auctions regularly held at fundraiser galas (for, say, the Kitchen), where in-demand artists tend to donate works.
"We want to be the dominant collectors' marketplace for sub-$100,000 works," Mr. Gilkes said.
In the world of start-ups, it's a new goal admirable for its narrowness and may even be sound from a business perspective. Christie's recently released sales figures for 2013 that said the company saw $20.8 million in online-only sales last year, a positive sign that the market exists, if one that also means Christie's is a competitor (the house's top lot was apparently a $387,750 original Apple computer). Sotheby's, for its part, got out of the online-only auction business in 2003, after a partnership with Amazon started in 1999 saw the house lose $100 million.
Still, Paddle8 touts the fact that it charges less than 50 percent of what traditional auction houses do for its buyers and sellers fees—just 5 to 7 percent on bids it helps generate for charity auctions. For benefit auctions that end with a live auctioneer closing the lots at a gala, the company does not collect commissions on non-winning bids, so it's anyone's guess how much the company has made on any of its 220 benefit auctions or 26 themed auctions—an amount it declined to give.
Mr. Gilkes said he saw a market big enough to fund the company.
"European governments are drying up on their funding and support of a lot of art institutes, and, therefore, many of the major museums are turning to this model as a vehicle for fund-raising," he said of the company's charity auctions, adding that he'd had his market "loosely quoted" to him as being $15 billion. "We should support that figure," he said. 
Perhaps having been quoted the same figure, Artsy also recently entered the charity auction business. Paddle8 has pushed for its dominance in the sub-$100,000 auction market, though, and this year soft-launched Gavel&Grand, a site that plans to host charity auctions with similarly priced non-art lots, like "an internship at Vogue," according to Paddle8's head of communications, Sarah Goulet. 
Artspace would seem to be the most straightforward and profit-oriented of the three, with a simple transactional model that shows only art available for purchase and then allows users to buy it from the site.
"We really still believe that providing a curated—key word—aggregated platform for buyers and sellers who wish to find each other is the way to go," Ms. Levene said.
As commonly reported, prices on Artspace range from $20 to $2.5 million, though the no-nonsense Ms. Levene said at its under-construction Financial District offices that "by far the majority of sales" were in the "under-$10,000" range. (Ms. Levene neglected to give any impression as to sales figures, what percentage of the works on the site were original, overall revenue or even the commission earned on each sale, though she did at one point boast that all five people on the "curatorial" team that chooses what to sell on the site have previously worked for galleries—later amending that statement to say that they had worked "with" galleries, when she couldn't remember which galleries those were.) This would seem to fit with the profile of the majority of works on the site, with 1,018 works currently available in the "print" and "photography" categories compared to "193" works in the "painting" and "sculpture" categories, which are more likely to be original and, depending on the artist, more expensive.
Lower-end works by big names are part of Artspace's strategy for bringing in the coveted new collector demographic. "My recommendation for a young collector is to go with a great artist," Ms. Levene said of her editions. "Because you can own a great work for a really affordable price point. And prints and editions— I mean, look at Andy Warhol's work. The editions market is a fantastic market to be in."
The company's educational branch does a number of creative marketing ventures (last week on the home page, it highlighted works for sale by artists "who champion issues of social justice" in honor of Martin Luther King Jr.) and in August, the company began to email subscribers on this idea, with blog posts titled along the lines of "6 Artworks to Invest in This November." A Peter Doig edition of 500 highlighted for $750 made reference to an oil on canvas work by the painter that sold at Sotheby's in 2007 for $11.2 million, "making him briefly the most expensive artist alive." Maybe those 500 prints will all increase in value, but sometimes, the claims go a little far. Artspace calls one print by Christo featured in August "a fine example of Christo's works on paper—one of which, from 2002, recently tripled its high estimate at Christie's to sell for $361,667," without noting that the other piece was not only an original drawing but also a schematic for his major 2005 work, The Gates, in Central Park. One untitled Robert Gober print featured in early October and available for $4,000 was called "a steal" since "another print from this exact edition … sold at Christie's London this spring for $5,042." Maybe it was a steal, but another print from that edition failed to sell at an auction in Brussels later that month, according to Artnet (an auctions results database that also sells art online).
Ms. Levene bristled at the suggestion that this marketing was misleading and said Artspace embraced the investment angle to combat the common thinking that print multiples and editions tend not to appreciate dramatically in value. "You have a Christopher Wool print that you bought five years ago?" she said. "You're probably very happy."
That said, she added, "We are not saying, 'Absolutely buy this, it will absolutely increase 10 times in value.'"
"Ultimately, it's the purchaser's decision whether they want to put down that money," said Chief Marketing Officer Kinjil Mathur.
In his 2012 book, The Value of Art, dealer Michael Findlay likens the proliferation of art indexes and mutual funds to the "ancillary services" of the Gold Rush, the "greedy supporting cast of assayers, saloon-keepers and prostitutes" ready to help the prospectors spend their money. With art prices climbing ever higher, an optimist might look at these start-ups this way; after all, the people who sold pick-axes made more than the people who died on the mountain because they didn't know what unprocessed gold looks like.
The way ahead is not difficult to see for any of these businesses. Even if the money coming in now is negligible, their overhead is low, which means that each start-up can coast for several more years on the more than $10 million they've raised. There's still plenty of time for them to find out how to revolutionize the online market or for a larger entity to buy them. With an increasing number of dealers selling via JPEGs, it is beginning to seem like only a matter of time before some business figures out how to sell art online.