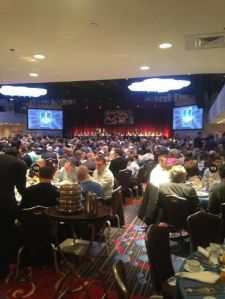 This truly was a breakfast of champions.
But the NFL greats of past and present assembled at the 26th annual Super Bowl breakfast weren't there to discuss their yards and sacks on the field, rather, their service off of it.
New Orleans Saint's quarterback Drew Brees traveled from the Big Easy to the Big Apple to discuss his work with the Super Service Challenge. The organization, which sees teams gathering to help non-profits, has given more than $1 million dollars to charity.
"Any time you can align yourself with an organization like the Super Service Challenge, you are talking about changing someone's lives in a positive way," Mr. Brees told attendees.
The Challenge will be giving back to the Empire State, as Mr. Brees announced the organization recently donated $500,000 to the New York and New Jersey area to benefit Hurricane Sandy relief.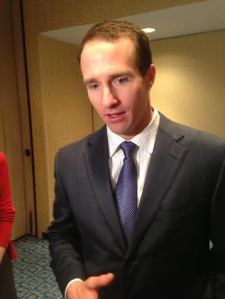 "The vision behind this is about a movement," Challenge Founder Dave Lindsey, who spoke alongside Mr. Brees, said. "A movement that our work is more than our paychecks."
Adding to the festivities was New York Giants defensive end Justin Tuck, who spoke to The Observer about Tucks R.U.S.H For Literacy, his program benefiting the education of children in need.
"For me, that is very important, giving. Especially with the opportunities I've had in New York," Mr. Tuck said. "Me and my wife are very passionate about kids and education. We understand that education is the equalizer."
Capping off the event was the presentation of the annual Bart Starr Award for Character and Leadership to Green Bay Packer's quarterback Aaron Rodgers.
Mr. Starr, a former Super Bowl champion and Packer himself, said in a statement, "Aaron is a great representative of the word 'gentleman' and I am proud to have his name associated with this special recognition and award."
As the breakfast kicked off, host and New York Times best-selling author Eric Metaxes asked the crowd and panel "What kind of influence do we have on others?"
With more than $1 million dollars raised and countless families and communities aided by those assembled for this breakfast, the influence is not hard to see both here in New York and all over the country this Super Bowl weekend.