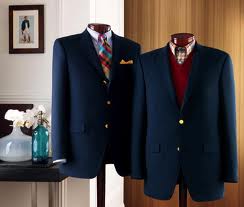 It's a good thing that preppy style is timeless, because New Yorkers will have to make do with whatever madras blazers and toggle coats are currently in their closets—the city is about to lose its premier purveyor of repp ties, seersucker suits and kiwi green cashmere. J. Press confirmed today that it will close its Madison Avenue flagship while the building undergoes extensive renovations, as first reported by Ivy Style. The building-wide renovations, being done at the behest of the landlord, are expected to take about a year. Wherever will the city's trust-funders go for their whale print pants and ribbon belts in the many months to come? (Well, there's always Brooks Brothers, we guess.)
And don't think you can just hop on MetroNorth for a tweed fix. J. Press's original York Street store is also closed—this December, the New Haven building was declared structurally unsound—and while the clothing purveyor has set up a temporary shop on College Street, a rented storefront could hardly be called a beacon of hope in these dark times.  ("If I listen hard, I think I can hear Whit Stillman crying," quipped a colleague.)
If there's anything WASPs hate, it's change. And the store's closure is especially difficult coming, as it does, on the heels of Lilly Pultizer's death last year. Of course, women can still purchase Pulitzer's exuberant prints in the city, while men will be forced to satisfy their sartorial needs at J.Press York Street, a trendier offshoot which was panned in the New York Times for its muted colors and general meekness of spirit. Oh, sure, one can always go to one of Ralph Lauren's many stores—that is, if one looks to look like a poseur—or shop at the self-consciously hip J.Crew, with its reassuringly familiar first initial. Just be sure to stay far away from the women's section, as the increasingly fashion forward retailer has not heeded prepsters' natural horror of all things sparkly.
Nonetheless, steely resolve comes naturally to those raised in WASPy environs and it's really not that bad. The store is expected to re-open, most likely at some point in 2015, according to Ivy Style, although it may be sooner if the clothier can find a suitable location in the meantime. Though nothing will be as ideal as the current location, situated, as it is, equidistant from the Harvard and Yale clubs. Still, the Madison Avenue store will remain open through the 18th and there's always the Cambridge and Washington D.C. stores, as well as the one in New Haven—just be sure to stop by Mory's for a drink first to blunt the trauma of the temporary location.
"As J. Press sets its sights on a new location, customers can continue to shop at their other East Coast locations in New Haven, Boston, and Washington D.C., as well as online at JPressOnline.com," a spokesperson for the store told GQ.
In the meantime, it's probably best to avoid bad dry cleaners, errant nails and unattended coat checks.