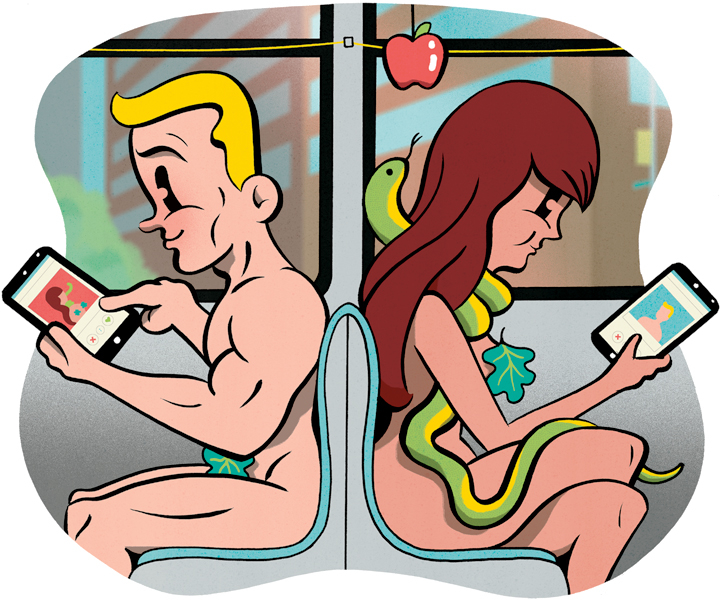 Nick's grandparents didn't know each other yet, but in college, they rode the same bus to class for months. Gramps admired his future wife from afar—well, a row or three away—until the last day of the semester, when he finally gathered the gumption to ask her out. The rest was history.
"That's a great story," Nick (not his actual name), a 30-year-old advertising creative, says to me over lunch. "'I swiped right on her picture' is not the most romantic story in the world."
We're talking about Tinder, the controversial and addictive online dating app that might just send sites like Match and OkCupid to the start-up graveyard.
That's right, we now have dating apps; websites were apparently too time-consuming. Feeling bored and lonely? Simply download Tinder, sign in through Facebook, pick a flattering picture of yourself, and you'll be matched with photo after photo of potential mates, bombarding you quicker than a stream of Grammy night tweets.
You pick a gender (male, female or both), then decide how far or close you want them to be (10 to 100 miles away) and how old (18 to 50+.) It's like ordering pizza. You can also write a tagline to describe yourself and add a few more photos for people who want to learn more about you(r looks) before making their choice.
Swipe right if you approve of someone's appearance. Swipe left if you're not into them. If you reject someone, the poor schmuck won't be able to contact you. But if you both swipe right, you'll be able to chat up a storm until you make plans for drinks at a mutually agreeable location.
"Your parents will love me," Joel, 23, insists on his profile, while Kory, 22, simply states, "It's not your booty, it's your beauty." Ugh, swipe left. Isn't this fun?
Tinder's success is undeniable. Since its launch a year and a half ago, the app has garnered 500 million profile ratings and is credited with more than 5 million new matches per day and 750 million matches to date. In cities like New York with fast–paced, cutthroat dating scenes, the app has taken off and just might be changing dating forever.
Yet Tinder's founders aren't satisfied. They want to diversify, a goal that for many a hot new tech company has turned out to be the kiss of death. Users tend to grumble every time a giant like the ever-changing Facebook adds a new feature, and now young people are leaving the site in droves. Nobody cares about Instagram's new direct messaging feature. And Yahoo's shift away from search toward, well, whatever it is they're trying to accomplish hasn't been met with rave reviews and dollar signs either.
How do you say "no," though, when an app takes off the way Tinder has, especially among the young? Whereas traditional online dating sites Match and OkCupid painstakingly cultivate the image of being for serious people (aka grown-ups) interested in long-term relationships, Tinder cuts to the chase—thrillingly, say users.
"When I was on it," says Bethany, "I felt a little voyeuristic, a little excited and different. You test the boundaries of what you can and cannot say. I didn't feel like myself."
But back to the matter at hand: What do you tell friends and family when you've met your latest flame on Tinder?
According to Jamie Parks, a reality TV producer and aspiring comic who has been dating her Tinder boyfriend for almost a year, there's no reason to lie. The outgoing Ms. Parks will try anything—in college, she made it her life's mission to be cast on The Real World, and she almost made it.
At the ripe old age of 25, she may have aged out of eligibility for the show. But she doesn't let that keep her from living a life as entertaining as that of a reality star, when she's not working 10-hour days behind the scenes. Her boyfriend is a bit more laid-back.
"I really have no shame in saying we met [on Tinder]," she says. "I don't think it's embarrassing or humiliating. I think it's just another way of meeting someone. At this point, I guess I'm just happy that we met."
Besides, she adds, "I don't see any difference between that and meeting a guy blacked out at a bar."
Like all the Tinder enthusiasts we interviewed for this story, she started using the app because all her friends were doing it. Soon she was addicted, even leaving the bar once or twice to "go home, lay in bed, eat and Tinder, like it was an activity."
"People are constantly on it, constantly available, constantly hitting you up," Ms. Parks said. "It was definitely overall pretty creepy, but I thought it was hilarious."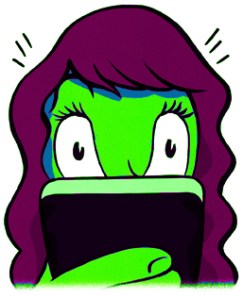 At first, she thought of it more as a novelty than a way to meet a serious boyfriend. But after two weeks of IMing with Tinder guys, she realized a meet-up could be the perfect way to find new stand-up material. Right away, she arranged dates with five guys.
Her soon-to-be boyfriend happened to be first in line. After falling for him over Belgian beers and a Comedy Cellar showcase, she canceled every other date she had that week.
They went out again two nights later. After another six weeks, they talked about exclusivity.
That are-we-or-aren't-we conversation can be tricky enough. A romance that begins on Tinder comes with an added burden.
Tinder users leave a digital footprint that can't be deleted. Couples who meet through the app often find themselves in an awkward situation where each is unsure if the other is still using it. Plus, even if a user deletes the app, his or her profile can still pop up on other users' phones for months.
That's how it came to be that Ms. Parks' friends were getting matched with her boyfriend, then dutifully informing her that he might still be playing the field.
"He said he kept [Tinder] so he could show his buddies who I was, because we weren't social media friends," she says.
A few of our interview subjects offered the same excuse. A more likely scenario: People keep Tinder on their phones to check up on their partners. After all, the app shows you when they last logged in.
"Yeah," Ms. Parks admits, "my boyfriend and I have definitely downloaded Tinder [after deleting it] to check on the other person."
Ms. Parks is glad she held off on asking her boyfriend why he was still logging in so early in their relationship, though. Recently, a friend of hers was matched with him again, only to see he hadn't logged into the app in six months. That was a relief.
Still, "that's probably the biggest downfall of Tinder," Ms. Parks says. "You can't delete your profile."
Bethany (not her actual name), another Tinder addict I interviewed, found herself embroiled in a social media comedy of errors thanks to Tinder and Snapchat.
Bethany graduated from a prestigious northeastern university a few years ago and now works in branding. Connections from her alma mater have helped her with networking and dating alike. So she didn't join Tinder to look for love, per se. She downloaded the app out of curiosity.
"I heard about [Tinder] from one of my friends who told me I shouldn't download it because I would go crazy," Bethany says over beers. "I had been hooking up with people pretty frequently at that point, and she was like, 'You don't need further assistance.'"
Her whirlwind romance with the app lasted about six months. She didn't permanently delete it until after she met her current boyfriend at a bar.
Tinder became part of her social media routine. After dutifully checking Facebook, Twitter and Instagram, she'd start swiping. Soon, she was even Tindering at work, though she made sure to hide her phone so that she wouldn't get a reputation like the summer intern who everyone knew was "going on all these weird Tinder lunch sex dates."
Like all Tinder users, she acknowledges that she loved the ego boost that came from being matched with someone and having him message her. Interestingly, though, when it came to messaging guys first, she demurred. All three of our Tinder aficionados agreed it's still the guy's job to make first contact, even when using a medium this unconventional.
She and Cory went on a few dates between April and May, took a break for vacations, then picked up again in July.
However, Cory seemed more into sending witty texts than hanging out in real life.
"I'd hear from him every day before noon via Snapchat or text," she says. After a few weeks, though, she had to delete Tinder from her phone—as her friend predicted, the app was making her crazy.
"He went to Eastern Europe on business, and I could see he was using Tinder there. It was like, 'He last logged in 30,000 miles from here.' I drove myself insane."
Soon, though, she downloaded Tinder again. Cory's profile was the third to come up. She swiped right, and he messaged her right away.
"He used the same line he used when we first started talking: 'Does this make us boyfriend and girlfriend?'"
They started seeing each other again, but Bethany still didn't think it would turn serious.
"The entire time we were hooking up, O.K., maybe I deleted Tinder, but I was making out with other people, like, very actively," she says. Because they'd met on Tinder, it just didn't feel like it could get serious.
Once, she became irate when the top three friends on his Snapchat profile were clearly women. This meant he was probably sending them flirty pictures all day. "So I blocked him and deleted his number and deleted him from Snapchat."
Then, against all odds, she ran into him in real life, at an outdoor daylong drinking event in New Jersey. It didn't go well.
Nick, our friend from earlier who's worried about how his Tinder story will stack up to his grandparents' meet–cute, trumpets the app with greater enthusiasm than any other Tinder obsessive we've met. At first, though, he eschewed Tinder, feeling it was online dating's answer to the BuzzFeed GIF listicle.
"This is the most superficial, shallow, short-attention-span, entitlement-generation type of thing," he recalls thinking. "It's that infection of, 'I don't want to write, I don't want to read. I don't have time.'"
At the time, the charming and energetic 30-year-old didn't want for dates, having moved back to his native New York after living in Chicago for several years. Because he had been away while his childhood friends were busy making connections in the city, a wellspring of attractive friends of friends awaited his return. But after exhausting those options, he needed something new. That's where Tinder came in.
"I think Tinder is the end of online dating," Nick the adman insists, like he's making a pitch.
Tinder gets rid of "the hurdle of trying to create a profile," he says, a notoriously time-consuming task. And the profiles are often too informative, leaving a prospective couple with nothing to talk about on their first date, he says.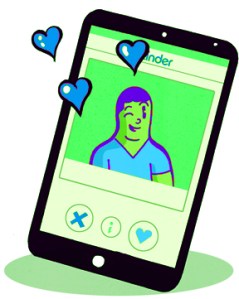 The feeling on a typical date that started online can be, "So I know all five of your favorite movies, your work history, what you plan to do with your life and what all of your friends are like," Nick says.
Nick prefers women who are both beautiful and smart (Godspeed, buddy!), and he says Tinder makes it pretty easy to tell who meets his requirements. He has devised a system that enables him to figure out if the lookers are also thinkers.
He asks his Tinderellas if they have hobbies outside of work or what their favorite museums in the city are. If they say they prefer to just go to the gym or hang out with friends instead of frequenting galleries or otherwise enriching themselves, he probably won't waste time getting drinks with them.
Still, "you wouldn't believe how many interesting women are on there," he says. "Wildly successful, totally beautiful women just waiting for somebody to ask them out. I've been out with Brazilian event planners who are into capoeira, writers, comedians who deal drugs—any combination of people."
Nick has also faced the issue of a girlfriend checking up on him with Tinder after they agreed not to use the app anymore. She told him she'd been on Tinder to show someone his profile (yeah, O.K.) and saw he'd logged in.
He ended up deleting the app, not to appease her but because the temptation was too great—not to go on dates but to "play the game. The game is really fun." They later broke up. He downloaded Tinder again.
Another pesky issue for men on Tinder: Sometimes, the women they're matched with turn out to be prostitutes or webcam girls looking for clients. Once, Nick was messaging with a woman who wanted to video chat. She asked him to create an account on a website and input his credit card information, which is when he realized she wasn't his long-lost soul mate.
Don't you just hate when that happens? Now, though, Nick can spot the call girls because of their too–professional, too–sexed–up photos.
Despite all this, Tinder co-founder and CMO Justin Mateen insists the app isn't for hooking up. (For the record, the folks at Tinder have taken action to prevent sexcam workers and prostitutes from soliciting clients with the service.)
"The vision is more about social discovery than just dating," he told Betabeat over the phone. "We launched our dating vertical first, because it was a sticky place to start … Facebook connects you with your existing network of friends; Tinder is where you go to meet new people."
Our interview subjects were largely skeptical of Tinder's use as a platonic friend-making network.
"I guarantee you that guy has gotten laid using his own product," Nick said.
And what do the denizens of Tinder think about this? After logging on, I attempt to start a number of conversations with the line "Have you ever used Tinder strictly to make new friends?" After asking about 17 guys in a row (for some reason Tinder only matches me with men, no matter how I toggle my preferences), I get nothing in response. No one wants to be friends with me! Am I using the wrong Kanye quote as my tagline?
Finally, though, someone writes back. "New friends with benefits, yes," he says, appending a smiley face sticking its tongue out.
"Well, that's not what I mean," I respond. "The founders of Tinder said it's for meeting friends, so I'm trying to do that."
"Oh yeah and snapcht [sic] isn't for naughty pics haha," he responds. (For the uninitiated, Snapchat is indeed largely used for sending naughty pics.)
Another guy says he'd love to be friends. He volunteers that he's Arab Muslim and inquires about my heritage. Irish Catholic, I tell him.
"Nice I like Irish ppl," he says, "u look pretty btw :)"
"Hey hey hey, that's not what friends do!" I protest.
He's the first of quite a few guys who say they'd love to just be friends, only to hit on me minutes later. This is something a certain breed of guy is notorious for doing in real life, only to later complain they've been "put in the friend zone."
We're on to you, guys.
It takes about 10 minutes of swiping (grueling research) before I even see another woman. Clearly, this is not the place for women who want to meet women; either that or women are preemptively rejecting me before I even get a chance to see their pictures.
I swipe right on the only three women I find in a sea of probably 100 dudes, but not one is a match. I know when I'm not wanted, so I close the app—after about 25 more swipes because, seriously, this is addictive.
So why do the Tinder founders insist their product is for making new friends when it so clearly isn't? When I pressed him about this, Mr. Mateen was adamant about the app's unexplored potential, using the example of a couple looking for another couple to play tennis with on vacation.
"People think of it as a hookup app, but all we're doing is facilitating an introduction between two people who are interested in meeting each other," Mr. Mateen says. "What comes out of it is up to them."
Of course, if "playing doubles tennis" sounds to you like a euphemism for swinging, you're not alone. Tinder's creators may badly want to diversify, to become the next Facebook instead of a lame joke and dead product five years from now. Overcoming the perception that the app is simply for hooking up clearly remains a long way off, though.
Biological anthropologist Helen Fisher, of Rutgers University, says she's not surprised Tinder is taking off. Snap judgments based on nothing more than an image—the kind Tinder users make—may not be as superficial or unreliable as they seem.
"There's a reason they call it 'love at first sight,' not love at first conversation, first smell or first joke," says Dr. Fisher. The human brain is built to take in visual information, and that information goes deeper than mere aesthetic judgments. Looking at someone's face, it's possible to glean their age, grooming habits and cultural background—even their personality.
In fact, Tinder is probably more efficient than attempting to find a mate at a bar. "In New York, when you walk into a bar, there's no response," Dr. Fisher argues. "The other people there don't know you've walked in. You don't know whether they're looking for a date. They might all be there with wives who happen to be in the other room."
Tinder actually gives users more information than they'd get in real life — you know they're single or at least playing the field, and if it's a match, that they're into you. You also know, given the likelihood that Tinder attracts a certain kind of online dater—the tiny percentage of people looking exclusively to date a lot (last year Match's annual Singles in America survey found that just 3 percent of men and 1.6 percent of women fall into this category)—a particularly vital attribute of your potential mate.
Still, Dr. Fisher cautions against relying on online chemistry alone to select potential partners. Simply put, even if all you're interested in is hooking up, there are things you can't learn from a picture or someone's use of an app, and for all the shortcutting services like Tinder potentially offer, "the human brain is the finest true algorithm for discovering whether you find somebody attractive."
She adds: "The bottom line is: Try to meet somebody as soon as possible so you can use your own mechanisms for sizing someone up."