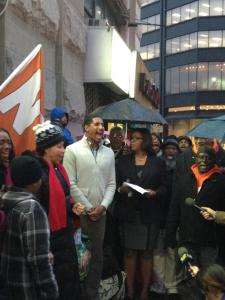 The city's new public advocate, Tish James, who had vowed to be a thorn in the side of fellow officials, is already making good on her promise.
At a press conference early this morning demanding more education funding from the state, Ms. James went after Gov. Andrew Cuomo and the $2 billion tax cut plan he unveiled ahead of his State of the State speech last week, separating her from other city lawmakers, including Mayor Bill de Blasio, who have largely refused to criticize the plan.
"All of you are traveling to Albany this morning to tell Governor Cuomo to do the right thing for our children and not give $2 billion dollars in tax cuts that favor corporations and the wealthy, but instead increase funding aid by $1.9 billion dollars and invest in our future, our children," said Ms. James, speaking at a press conference in Brooklyn before parents and advocates headed to Albany for a rally demanding more state education funding.
Last week, Mr. Cuomo proposed a massive tax cut plan, which includes across-the-board breaks for many, including property owners, renters and upstate manufacturers. The plan was seen by many observers as part of a larger effort by Mr. Cuomo to position himself as a fiscal moderate during an election year and received minimal criticism from city lawmakers, including Mr. de Blasio, who insisted his own plan to raise taxes on the rich was not at odds with the governor. "I think there's not a dichotomy because you have two levels of government … I think the state has a vision for the state and I respect that vision," the mayor argued.
But Ms. James, who was a fixture at rallies and protests during her time as a Brooklyn councilwoman, took a very different tone.
"We're going to demand that Governor Cuomo provide the funding that was afforded to us in a court decision for our schools," she said as she joined advocates to push for more funding under the Campaign for Fiscal Equity, which in 2007 won a lawsuit against the state to provide increased education funding to the city.
"After five straight years of cuts, this investment of $1.9 billion dollars can begin to reverse the inequalities that have left many of our children behind," she said.
A spokesman for Gov. Cuomo declined to comment, but his office noted that, in fact, the state has increased education funding over the last two years, with an $805 million increase in 2013-2013 and a $1 billion increase in 2013-2014. The state now spends a total of $74 billion on education every year, when higher education is included–more than the entire budget of 47 different states combined, the office said.
But advocates insist the city has yet to get its due.
"Year after year we have seen cuts or small increases that haven't kept up with inflation," said Ms. James, who bemoaned a list of problems with city schools including large class sizes, schools closing, the high drop out rate for children of color and cuts to music and arts programming.
"As New York City public advocate… I will fight to ensure that New Yorkers receive their fair funding from the state government for our school," she added. "We urge Governor Cuomo to do the right thing."