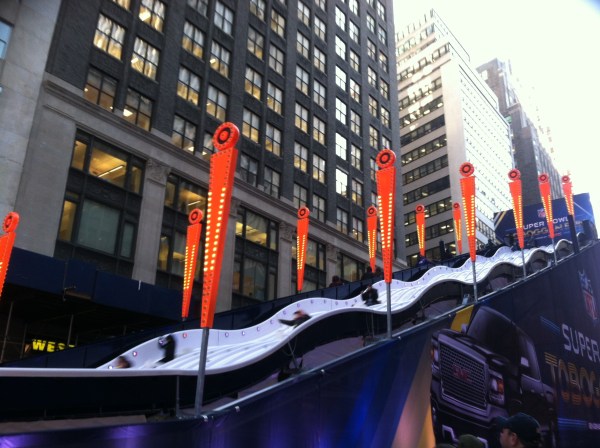 And there was certainly a lot of fun to be had. With excitement in the air, passionate fans and attendees lined up for autographs, pictures, performances and, of course, the Super Bowl XLVIII toboggan ride!
The Observer captured the 60-foot-tall Super (Bowl) slide firsthand.
[youtube=http://www.youtube.com/watch?v=9LNP33FHCNA&w=600&h=600]
But we weren't the only ones in on the fun. People old and young were excited to ride the 180-foot-long toboggan at Broadway and 41st Street at the cost of 5 bucks.
When The Observer asked some youngin's getting off the slide how many more times they'd go down if they could, the answers were "as many times as I can," "infinite" and "until it closes."
Alicia Hoggard-Shannon, 11, thought the slide was the bees knees and wanted to turn right around and get back to it.
"You can feel the adrenaline pumping through your veins," she said.  "It may feel scary at first, but it is worth going down there and worth the wait." (It was only about 15 minutes. Who would've thought?)
While the young Justin Galluzzo said he was "really excited" to ride, his father, Chris, was "stoked."
"It's gonna be sick. It's gonna be ridiculous!" the elder Galluzzo said playfully as he neared the front of the line.
Some had to think a little to decide if the festivities are truly worth closing down 13 of Broadway's busiest blocks, but Mr. Galluzzo thought nothing of it: "Hell, yeah!  They should've blocked off more blocks. You see how there's cars coming through here? They should have just shut it all down," Mr. Galluzzo added.
Jack Ryan, a skeptic unsure if the football fuss is worth the traffic, decided to brave the slide anyway, saying, "Moments are memories."
"I'm 52. It isn't going to be that fun," Mr. Ryan said before braving the toboggan. After his slide down Super Bowl Boulevard, you can tell he enjoyed the ride, letting the little kid inside get the best of him.
"It felt good. It felt like I was gonna go up in the air," he said. 
Get while the gettin's good—Super Bowl Boulevard shuts down Saturday at 10 p.m.