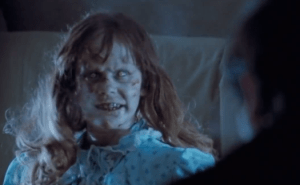 Forget using Skype for choppy, pixellated webcam sex. Now, you can use it to get a long-distance exorcism, too!
Rev. Bob Larson, an Evangelical Christian in Scottsdale, Ariz., is using Skype to perform exorcisms to possessed people all over the world, ABC 15 reports.
In case you haven't seen as many crappy horror movies as we have (The Unborn, anyone? Wherein Gary Oldman plays a rabbi and performs a Jewish exorcism?), Rev. Larson describes an exorcism as "the process of expelling an evil spirit from an individual who has become somehow invaded and demonized by that being, and sending it back to hell and freeing the person."
Sounds useful.
In ABC 15's video, Rev. Larson can be seen performing an exorcism on some dude in Norway who's apparently possessed by a bunch of different shitty demons. Tbh, it kind of just looks like the guy's on some serious drugs, but Rev. Larson—who's apparently performed over 20,000 exorcisms—insists the demons and the exorcisms are totally real.
"There would be no reason to theatrically stage this for any reason," he told ABC 15. "Why would anybody do that? I have no idea."
Maybe he can apply his skills to whatever the fuck is happening at this house in Gary, Ind., because it's seriously scaring us so badly, we had to listen to the Newsies soundtrack to fall asleep last night.