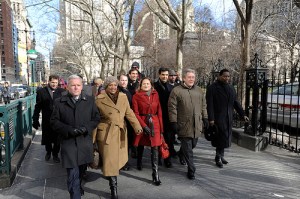 One of the most influential committees on the City Council may be coming back to Queens. 
Julissa Ferreras and Jimmy Van Bramer–two Queens council members who bucked their county's Democratic organization to support the eventual winner of the speaker's race–are now the leading contenders to chair the powerful finance committee, multiple sources said.
"It's Julissa and Jimmy," a council source familiar with the negotiations told Politicker. "They're hashing it out this week. Announcements could be coming soon."
Both lawmakers declined to comment on the discussions, which are expected to continue through this week.
Ms. Ferreras and Mr. Van Bramer are both members of the Progressive Caucus, the group of left-leaning legislators who helped elect Speaker Melissa Mark-Viverito. Like Ms. Mark-Viverito, Ms. Ferreras is a Latina whose ascension could mark yet another political milestone for the city's burgeoning Latino population. Mr. Van Bramer is a fellow progressive and one of several openly gay council members. 
For both, the chairmanship would represent a significant promotion. Mr. Van Bramer currently chairs the cultural affairs committee, while Ms. Ferreras chairs the committee on women's issues, two committees that lack the legislative clout of finance.
With more than 20 newly-elected members in this year's class, the two council members, elected in 2009, have a degree of seniority often expected for higher-prestige posts. Another progressive elected in 2009, Manhattan Councilman Ydanis Rodriguez, could also be in line to chair the transportation committee, sources said. 
Of all the committees in the council, finance may be the most coveted. The finance chair plays a pivotal role in negotiating the city's annual budget with the mayor and comes with an $18,000-a-year stipend. The committee's previous chair was Brooklyn's Domenic Recchia, a moderate closely aligned with former Speaker Christine Quinn.