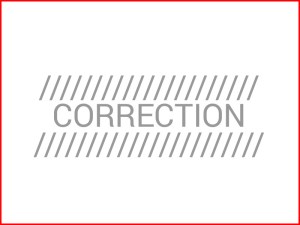 Remember that story about Anna Gristina, the "Soccer Mom Madam" who pleaded guilty to running a high-end call-girl ring on the Upper East Side and whose clients were, as the New York Post put it, "powerful politicians, top-law enforcement, influential lawyers, bankers, entertainment execs and Fortune 500 businessmen"?
On March 29, 2012, The Observer ran a story that suggested the New York Post's editor in chief, Col Allan, was among the "powerful men found in transcripts of the surveillance audio from the five-year-long investigation" of Ms. Gristina. Our story reported that "Ms. Gristina reportedly boasted of her years-long close association with the editor, whom she referred to as a 'very, very good friend.'"
The story also implied that the Post had been uncharacteristically gentle in its coverage of a story seemingly right in the tabloid's wheelhouse, implying that the "sympathetic" and "nice" coverage of the case was due to an alleged "special friendship." Information has recently come to light that suggests these characterizations were incorrect.
The original version of the story did not include a comment from Mr. Allan or his representative; a later version, which you can read here, contains Mr. Allan's full denial, and it's not one of those nuanced nondenial denials, either:
"This story is outrageous. I have never met Anna Gristina, I have no relationship with her, and I have no relationship with her business. Had the reporter from the NY Observer spoken to me, I would have told him as much."
The next day, March 30, the Post ran a column by Page Six-er Jeane MacIntosh in which she visited Ms. Gristina at Rikers Island and quoted the jailed madam as saying, "I don't know who Col Allan is. … I have never met him. I have never heard his name until today." According to the MacIntosh column, Ms. Gristina further claimed that she had told a friend and alleged fellow escort, Rebecca Woodard, that Ms. Woodard needn't worry about her own name appearing in the papers (Ms. Woodard was in the midst of a bruising custody battle) and claimed to have a "relationship with someone at the Post," referring to Ms. MacIntosh, to whom Ms. Gristina had provided scoops in the past.
Ms. MacIntosh's column concluded by quoting her boss, Mr. Allan: "My attorneys are today filing a formal demand of retraction from The Observer."
In response to the MacIntosh column, The Observer followed up with yet another story, which stated:
We never claimed that Mr. Allan was friends with Ms. Gristina, only that she said he was on surveillance audio. Our reporting indicated that multiple sources had reported the existence of a surveillance tape on which Ms. Gristina boasted about a personal relationship with Mr. Allan.
The Observer also printed a letter from Post attorneys saying, among other things:
(1) Mr. Allan has never met or spoken with Ms. Gristina.
(2) Mr. Allan has not had any relationship, either business or personal, with Ms. Gristina.
(3) Ms. Gristina has never spoken Mr. Allan's name.
(4) The New York Observer does not have any evidence to suggest that Mr. Allan or the New York Post altered its coverage of the Gristina story.
It was already known that hundreds of hours of tapes of Ms. Gristina existed, tapes that would surely see the light of day if a trial or other legal action occurred. Had Mr. Allan been untruthful in denying that he knew Ms. Gristina, his reputation as a straight-shooting—occasionally grumpy, often intimidating, but always straight-shooting—newsman would be shot. And if he lied about knowing Ms. Gristina, it would have been fair to conclude—as the Post itself surely would have, had it caught, say, a former attorney general and governor lying about his associations—that the relationship exceeded the boundaries of "special friendship."
Well, now we know.
Ms. Woodard's book, Call Girl Confidential, dropped on Tuesday—she goes by the pen name Rebecca Kade and included tales of being choked by sometime-customer Eliot Spitzer—and with it came leaks from the Gristina tapes. Some of these transcripts deal with the matter at hand and appear to clear Mr. Allan's name.
In the relevant part of the transcript, Ms. Gristina tells Ms. Woodard, in discussing Post court reporter Laura Italiano, "I know [Italiano's] editor in chief. Very, very well. But there's a price that comes with that. Do you understand?" Fair enough. That could imply Col Allan, and the reference to "editor in chief" certainly could have led The Observer's sources to believe it referred to Mr. Allan. But a couple sentences later, Ms. Gristina says, "My friend at the Post owes me a lot of favors. I think they would kick something out if I said it was a personal favor. I've known her for 14 years."
That "her" would exonerate Mr. Allan and add credence to the "friend" being Ms. MacIntosh and not Mr. Allan. Additionally, the 14-year friendship would even more strongly disqualify Mr. Allan, who had only returned to the United States in 2001—just seven years before this tape was made in 2008.
When The Observer story first appeared, Mr. Allan went ballistic. In addition to threatening to sue and demanding a retraction, in reporting this story, The Observer learned that both Mr. Allan and The Observer's publisher, Jared Kushner, recalled a ferocious series of interactions on all sides, which also roped in the Post's long-time P.R. representative, Steven Rubenstein. They basically reached a stalemate. Mr. Kushner told Mr. Allan that if evidence ever emerged that cleared Mr. Allan's name, we'd cover it. And until this transcript appeared, that's where it stood.
Some might find it rich that the city's premier publisher of salacious scandal would be enraged over a story that didn't even claim a sexual relationship. But Mr. Allan told The Observer this week, "I'm in the publishing business. I understand the imperfect nature of the rough cut of history. The New York Post is not a timid newspaper. The reason I have taken great offense at this isn't that I have thin skin. It's that I have a wife and four children. That's the issue for me."
Between Mr. Allan's denial, Ms. Gristina's denial, Ms. MacIntosh's self-identification as the friend in question and the transcript's reference both to a "her" and especially to the specific, multiple references to "14 years," The Observer is now persuaded that Ms. Gristina was not referring to Mr. Allan. We have no reason to doubt his assertion that he never knew Ms. Gristina.
Another element of The Observer story that created much animosity was the fact that The Observer published online without having reached Mr. Allan. In Mr. Allan's opinion, that failure was intentional, or at least the attempts were not made in earnest. According to Mr. Allan, the Observer reporter left a message on his machine and also with the office not of Steven Rubenstein, who everyone in town knows is the Post's representative, but instead with Richard Rubenstein, Steven's brother who runs a separate public relations company.
Mr. Allan has a sign on his desk that reads, "To err is human, to forgive is divine. Neither is the editorial policy of the New York Post." In more than two decades of editing daily newspapers, Mr. Allan has ruffled plenty of feathers and put some powerful noses out of joint. But he didn't deserve to be falsely accused of having a "special friendship" with someone he never met.
The Observer regrets this 22-month-old error.