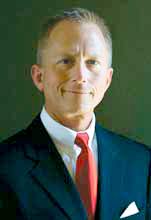 State Sen. Jeff Van Drew (D-1) said he plans to decide by the end of the month what he intends to do about a Congressional run in the 2nd District.
Democrats have long viewed Van Drew as a future congressman.
U.S. Rep. Frank LoBiondo (R-2) plans to run again this year, and attorney Bill Hughes, son of the former congressman of the same name, is already in the contest.
A dentist by trade, Van Drew said he wants to take his time to talk to family, his longtime chief-of staff Alison Murphy, and political allies.
In the upper chamber since 2008, the South Jersey state senator recorded the biggest victory of his career in 2013 over GOP challenger Susan Adelizzi-Schmidt.
He has very close ties to Senate President Steve Sweeney (D-3) and good relations with Republican Gov. Chris Christie.
Part of Van Drew's decision-making will include consideration of the views of these players.
He is one of 40 senators, in a 26-member majority, in an influential position as a top member of the powerful South Jersey Democratic Delegation in Trenton. Sources say he doesn't know whether now is the time to give up that kind of power.
South Jersey Democratic chairmen have announced their decision to delay declaration of support for a candidate until after Van Drew makes his decision.