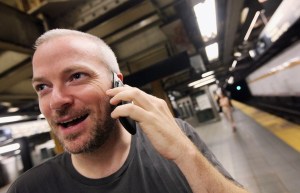 They took our trash cans, but at least we'll have cell phone service.
After far too many years of underground dead zones and mundane subway rides, Verizon Wireless has added subterranean service to 35 subway stations on Manhattan's West Side.
Both voice and data service is already up and running at the newly serviced stations, which stretch from 23rd St. to 96th St. Busy stops including Rockefeller Center, Lincoln Center and the Times Square are among a few of the stations.
Even though AT&T, T-Mobile, Verizon Wireless and Sprint all signed a deal to wire the subway system last year, only AT&T and T-Mobile service was initially available. After service struggles, it's about time Verizon customers can join in on the underground tweeting.
Transit Wireless, the technology company paying for the program, hopes to provide service in all station by 2017.  Next they will add service to 40 more stations, including Grand Central Station and all underground stations in Queens. 
There's some hope for the subways after all.