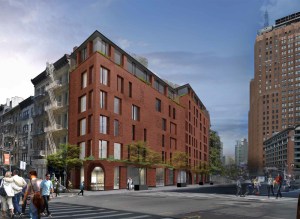 Are you a developer facing community opposition to your glassy new condo tower? Worse yet, have you been censured by the Landmarks Preservation Commission for a contextually insensitive design? Well, rather than tinkering with rooflines and pediments, setbacks and heights, why not replace all those walls of glass with walls of brick?
DDG, the developers and designers of a 10-unit condo building at 100 Franklin Street, did just that after the Landmarks Preservation Commission panned their Tribeca East Historic District design in November, accusing it of being "attention-calling," "muddled," and "trying to do a lot of things." Fortunately for DDG, the brick swap was met with great enthusiasm—the LPC loved the changes, Curbed reports, and gave the development its stamp of approval. "I think this is extraordinary and exhilarating," one member even gushed.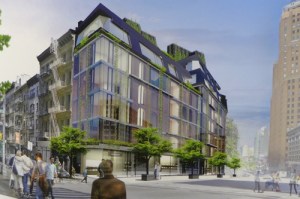 Alongside exchanging the glass for brick, DDG's new design also dumps the McDonalds-esque mansard roof and the recovered brick that it had planned to work into the glass and steel exterior—elements that they might be forgiven for thinking would please the LPC and the neighbors. Instead, the elements were roundly mocked. One neighbor said that they "were kitsch and made a mockery of our historic district." Architect Walter Melvin criticized them as non-contextual—"reused brick is contextual in a pizza store in Queens. It's not contextual here"— and another accused the admittedly kind of ugly building of causing an "international scandal."
But all was forgiven today, thanks to brown bricks, lots of jack arches and one big romanesque one over the entrance. Which kind of looked like overkill to us, but it worked. And, given the residential market's current love for all things old-timey, the units will probably sell like hotcakes.