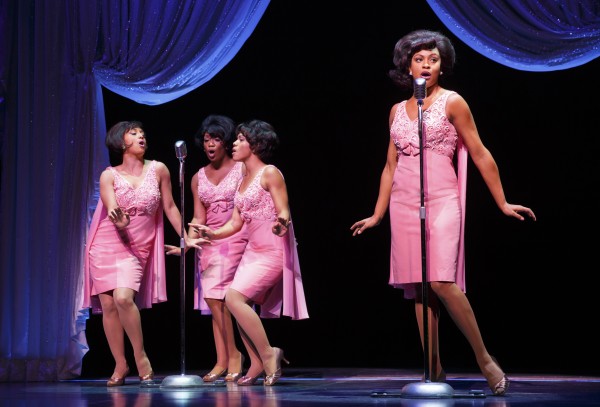 Where you lead, Carole, I will follow, anywhere that you tell me to.
And if it happens that you lead me to a mediocre bioplay that combines your peerless catalog—from Brill Building-era songs for the Drifters and the Shirelles and Aretha Franklin and the Monkees to the later, much more personal masterwork that is Tapestry—with a lifeless book, well, I'll follow you there, too, and more or less happily.
Beautiful—The Carole King Musical, which is the full, awkwardly em-dashed name of this show, opened Sunday night at the Stephen Sondheim. It has a fantastic score, comprised of 20-odd classics by King and her erstwhile husband and writing partner, Gerry Goffin, and their songwriting rivals and friends Barry Mann and Cynthia Weil. It also offers top-notch performances, most notably from the supremely talented Jessie Mueller, channeling a near-perfect King at the piano and on top of that giving a sensitive, actorly performance, too. It's even nicely directed, by Marc Bruni, a slick and high-gloss production that slaloms effortlessly and entertainingly between domestic moments and tightly choreographed, Bandstand-style musical numbers. But it also suffers from that ailment so common among hagiographic biomusicals: a clunky, cheesy, no-warts-at-all script designed to do little more than knit together beloved songs. (See, in just the past nine months, Motown: The Musical and A Night With Janis Joplin.) Worse, in sketching this schematic version of King's life, the otherwise accomplished author Douglas McGrath has turned the star of his show into a passive participant in her own life—and a mostly uncompelling protagonist.
Perhaps that's true to the reality of King, part of whose charm has always rested in her regular-person-ness, the nice Jewish girl from Brooklyn who worked hard, raised a family and always wanted to move to the suburbs. (She is essentially a walking, talking amalgamated Nathan Glazer-Gail Sheehy essay on Jews, boomers and assimilation, moving from a tough childhood in Brooklyn to hardworking success in Manhattan to suburban quasi-idyll in New Jersey to, ultimately, post-divorce self-actualization in Laurel Canyon.) However, that very archetypal narrative—and the fact she wrote a very well received 2012 memoir, A Natural Woman—suggests there's real complexity to be found in her story.
But that's not really the point of a biomusical. (See, again, Motown and Janis Joplin.) Beautiful opens, as these shows so often do, with King at the height of her success, seated at a grand piano on the stage of Carnegie Hall, her patterned dress flowing on the floor, wavy hair tumbling around her shoulders, singing "So Far Away," the second track from Tapestry. She pauses to say "hello" to her audience, and from the first monologue, it's clear this script is a clunker:
This is probably a sure way to get applause in New York, but I was born in Brooklyn. And even though I live in California now, being here tonight is like being home again. You know, I never meant to be a singer. When I was 16 and my family, the Kleins, lived in Brooklyn, I had other dreams. And you know what's so funny about life? Sometimes, it goes the way you want, and sometimes it doesn't. And sometimes, when it doesn't, you find something beautiful.
Geography-pandering, Jewish audience-pandering and title explication all in one short paragraph.
The action moves back to the Klein home in Brooklyn, circa the mid '50s. Carole wants to be a songwriter; her mother, Genie (played by an indefatigable Liz Larsen), wants her to be a teacher. Her mother is also bitter and angry. (More leaden dialogue: "Carole, dear, remember when you used to play Mozart? I'd be so proud if you played Mozart again. So would your father, God rest his soul." "Ma, you're just divorced; he's not dead." "He's dead to me.") Young Carole goes to New York, sings her song "It Might as Well Rain Until September" for the producer Don Kirshner (Jeb Brown), and she has her first deal and maybe a job. ("I like your spirit," Kirshner tells her, signpostily, "but I like a hit record even better.")
AND SO IT continues, a string of happy coincidences ("Who's that?" "That's Gerry Goffin. He's my lab partner in bio.") and convenient meetings ("I'm sorry, I'm lost. It's like a rabbit warren in here. Can you help me find Donnie Kirshner's office?" "I'm Donnie." "I'm Cynthia Weil."). There's virtually no depiction or dramatization of what goes into writing a song, of what makes King such a great talent, or, through the first act, anything but good news—love, pregnancy, marriage, hits—for King and Goffin. Indeed, Weil (Anika Larsen, sharp and spunky) and Mann (a funny Jarrod Spector) come off as the more interesting characters, she self-assured and sarcastic, he romantic and neurotic, although I suppose You've Lost That Lovin' Feeling—The Barry Mann-Cynthia Weil Musical doesn't have quite the same ring. Finally, we get to the Act One closer: Goffin (Jake Epstein) admits he has been sleeping with a young singer and that, while he doesn't want to leave his mistress, he wants to stay in the marriage. Carole, ever passive, says O.K.
Halfway through Act Two, after Goffin has had either a breakdown or a drug episode—in the play, it's not clear (according to King's memoir, it was both)—and also another mistress, Carole finally leaves him. (More from the script, including, natch, the italics: "The girls deserve something better, and you know what? So do I.") Finally, meek Mrs. Goffin becomes self-assured Carole, for the first time in the play letting down her hair, both metaphorically and literally. She announces she's moving to L.A., she sings "You've Got a Friend" as a farewell to Barry and Cynthia and Donnie Kirshner, and she heads West to record Tapestry. The history is a bit shaky—there was a less successful solo album before Tapestry, and there's no mention that someone you've perhaps heard of recorded "You Make Me Feel Like A Natural Woman" before King did—but, still, Ms. Mueller, as she has throughout the show, delivers the goods. (Ah-oop.)
But more than that, for all the script's clunkiness and corniness, its hazily drawn characters and elided history, you can't help getting caught up in this moment. Mrs. Goffin, songwriter, has finally, forcefully, turned herself into Carole King, singer-songwriter. She's making us happy, and she don't need to do more.