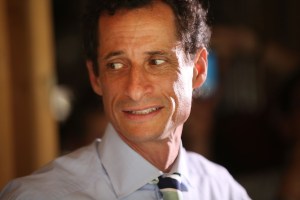 Anthony Weiner has never been camera-shy.
The former Congressman/mayoral candidate/sexter has landed a role on the political comedy Alpha House, a spokesperson for the show confirmed Wednesday.
Mr. Weiner will appear as himself in the comedy's season finale, which will also feature cameos from actor Bill Murray, CNN analyst Jeffrey Toobin, former NBC News anchor Tom Brokaw, and former GOP Chairman Michael Steele. It's an insider-heavy lineup for Alpha House, a show that has always been rich in political-insider humor.
Garry Trudeau's creation chronicles the lives of four U.S. Senators sharing a house together in Washington D.C. While the events of the show are fictional, its lead characters (played by John Goodman, Mark Consuelos, Clark Johnson, and Matt Malloy) are understood to be fictionalizations of real Senators Dick Durbin, Chuck Schumer, and Representative George Miller, who shared a D.C. home known as the "Omega House". The series, an Amazon original, has won critical acclaim from the likes of LA Times Robert Lloyd, who praised the show's "impressive cameos."
Tune in Friday to see if Mr. Weiner's cameo is as "impressive" as his "political career."