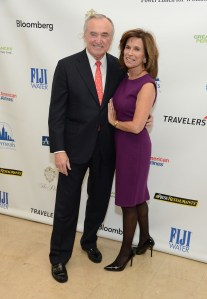 Le Cirque, always a great place for socialite watching, was buzzing this afternoon, as New York's finest ladies turned out to pay tribute to NYPD police commissioner Bill Bratton's wife, Rikki Klieman Bratton. The lunch, hosted by Judith Giuliani, the wife of Rudy Giuliani, and Somers Farkas featured a drop-in from Commissioner Bratton himself, who had come to be half of what Ms. Giuliani referred to as "a power couple."
Ms. Klieman, a trial lawyer who occupies that rarefied space which includes both reporting on the news (CBS, Nightly News, ABC, This Morning, CNN, CNBC, MSNBC, et. all) as well as portraying herself on fictional programs (NYPD Blue, The Closer, The Cable Guy) described herself as a "fierce advocate" to the assembled crowd, which included Lorry Newhouse, Caroline Hirsch, Susan Magrino and Bettina Zilkha. She spoke about several causes, including the Police Athletic League, the New York City Police Foundation and the Police Museum.
"I'm at a loss for words," Ms. Klieman said, admitting that this rarely happens. She told the ladies she'd be walking around and would love to exchange business cards with anyone she didn't know.
"This is nice," smiled one of the women at The Observer's table. "You don't see this happen a lot in New York, but it happens in the South, where ladies will come out for a new person." Or at least, someone who was new again.
Centerpieces for the taking included burlap bags containing a vial of bubbles. It was seriously adorable.