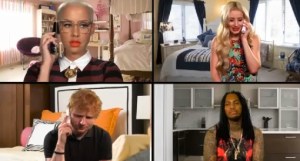 Professional pretty person/ex-Kanye girlfriend Amber Rose decided to reenact not-even our favorite scene from Mean Girls ("Danny DeVito I love your work!" or anything with Lizzy Caplan, obviously) for no reason whatsoever, and it's glorious.
Also featuring Waka Flocka, Ed Sheeran and Iggy Azalea, because, why not? Apparently this was on MTV, which is sad because we are missing a lot of good stuff on there these days in our silent protest of dating shows that involve algorithms.

[protected-iframe id="52df873c7c7d70a9d72289c0d41e2fdb-35584880-35147716″ info="http://media.mtvnservices.com/embed/mgid:uma:video:mtv.com:997405/cp~id%3D1721274%26vid%3D997405%26uri%3Dmgid%3Auma%3Avideo%3Amtv.com%3A997405″ width="512″ height="288″ frameborder="0″]
Get More:
Retromania: Hip Hop, Full Episodes
Just kidding, Are You the One?; we are still rooting for Chris and Shanley.