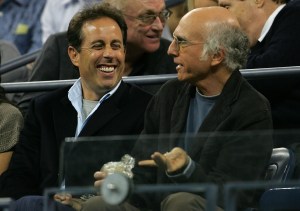 Last week, Jerry Seinfeld participated in one of those
Reddit AMAs
, where celebrities interact with teeming Internet masses to
mixed
results
. Mr. Seinfeld revealed during questioning that he had worked with longtime collaborator Larry David on a new project that would be "big, huge, gigantic."
"We never obsess over anything that isn't mundane," he teased out. "Most recent was intentional mumbling." Which, shit, was going to be the name of our memoir.

It didn't take long for the rumors to begin on the nature of this project. A new web show about cars? An updated Seinfeld, as evidenced by the recent appearance of Mr. Seinfeld and Jason Alexander outside of Tom's Restaurant yesterday? (Nope, that's probably just for the web series about cars.)
Or maybe even a play??
According to Showbiz411, Mr. David confided at the SoHo House in LA that he was bringing some new material to Broadway:
Larry, whose hilarious HBO movie "Clear History" I just re-watched, told me: "I've written a play." A play? For, like, Broadway? "Yes." And Jerry would star in it? "Maybe," he said. "We're talking about it." Or directing, or producing, sounds like. Don't forget, Jerry produced and directed Colin Quinn's one man show on Broadway.
Now, we know this probably won't be a musical version of Seinfeld, taking place in modern day New York, a la RENT. (Though we would buy all the tickets to that.) Mr. Seinfeld told Reddit that he had no plans to reinvent the wheel, lest it turn into The Hangover:
Everything would have had to change. The character would have gotten married and started families, I suppose. But I still think everything has its life cycle and if you respect it, people enjoy it longer. And if you disrespect it – look at THE HANGOVER movie. If you made just one, the movie would be a comedy legend. Because they made 3, it isn't.
First of all, really great comparison; we totally see why you think The Hangover trilogy is an apt analogy for a long-running, iconic TV show. Secondly, if there was a Hangover rock opera, (a la RENT,) we still might consider seeing it, if James Corden played Alan. (We guess the play could not be a musical, but good luck filling the seats unless it's a one man show, a la Billy Crystal.)
We're starting to wonder if Mr. David is even talking about the same project as Mr. Seinfeld was on Reddit. "Intentional mumbling," while a great, great memoir title, is sort of frowned upon in principle when you're trying to sell out the Neil Simon Theatre.