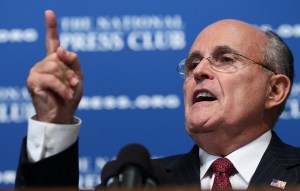 Mysterious white powder sent today to former Mayor Rudy Giuliani has tested "not-toxic," according to police and Mr. Giuliani's security team.
The powder was sent to Mr. Giuliani's office on 49th Street today, according to an FBI spokesman, which was investigating the incident along with the NYPD and Joint Terrorist Task Force.
Police said the substance was found in the mailroom in a letter addressed to the former mayor and Republican presidential contender.
"We received an envelope in the mail. When it was being sorted, the mail person took note of powder, a white substance, and started the procedures that we have put in place," said John Huvane, the chief executive officer of Giuliani Security & Safety, who declined to discuss other details about the letter, pending an ongoing investigation.
At the time, Mr. Giuliani was in the building, on the 49th floor, "conducting his regular business," said Mr. Huvane. His floor was never quarantined and the mayor remained inside, calmly at work, he said. "He just wanted to kept abreast of what was gong on and for everyone to be careful."
Police quickly tested the material, which was found "not toxic," but is being set to a city lab for further testing, according to an NYPD spokeswoman.
White powder was also sent to multiple Super Bowl hotels, but "at this point, we don't know of there was any connection," an FBI spokesman said.
Mr. Giuliani is no stranger to powder scares. After 9/11, the then-mayor had to deal with repeated anthrax threats in City Hall and at other major buildings.
"He's well aware of what needs to be done if it was discovered to be toxic," said Mr. Huvane.