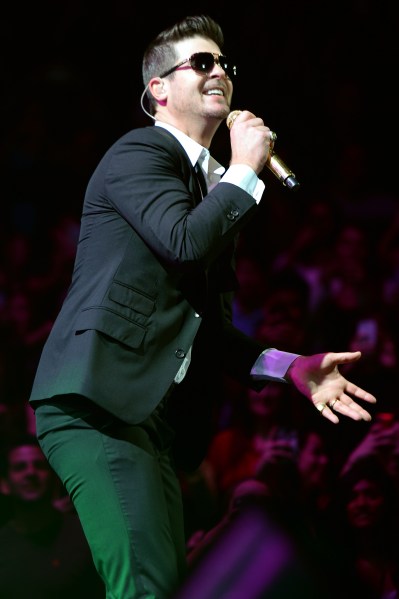 I came to "Blurred Lines" late. It was July of last year, four months after the release of Robin Thicke's controversial, chart-topping hit, and I'd somehow made it that far without consciously taking the song in. But once I'd listened to it—many, many times, I'll add, doing research for an article—I couldn't help but notice it everywhere—on the streets, blaring from car speakers and smartphones and block parties; in bars; on TV.
I liked it at first. It was fun and jumpy and kind of goofy. It didn't take itself too seriously, even if it managed to alienate a swath of socially conscious young men and women who interpreted its lyrics—and music video, which features several nude women—as misogynistic and, as one blogger put it, "rapey." But you know all that. It was the song of the summer, and the best-selling single of 2013.
And yet, as summer turned to fall, and fall to winter, I kept hearing it. Over and over again, a fusillade of cowbell and falsetto. This wouldn't have been a problem if I hadn't realized a few weeks after "Blurred Lines" entered my ears that it isn't good at all.
The tune—if we may call it that—never settles in the mind, mostly because it is almost all rhythm and no melody. Which isn't, ipso fact, a bad thing. But the song is a shell. Try to sing it right now. Try to remember what it sounds like. Sure, you might recall a few lines—"You the hottest bitch in this place" comes to mind—but I'm guessing you can't. Also, it's second-rate Marvin Gaye, a lame rip-off of "Got to Give It Up" (it's even been accused of copyright infringement). And the most melodically distinct section of the song is basically a repeat of Color Me Badd's 1991 hit "All 4 Love," as Rob Sheffield points out in a blog post for Rolling Stone that hyperbolically deems "Blurred Lines" one of the worst songs ever.
"I can't remember the last time there was a hit song this ghastly," Mr. Sheffield writes in a memorable line, "the sound of Adam Sandler taking a falsetto hate-whizz on Marvin Gaye's grave."
That's over-the-top. But so is the popularity of "Blurred Lines."
And so, as we brace for the Grammys this Sunday, I'm hoping that Robin Thicke's tepid hit won't win record of the year. Maybe that sounds like a mean curse—go Lorde!—but I don't really care. We don't need to think about this song anymore. We should forget about it. We should move on—not, of course, because the issues it's brought up related to sex and the the representation of the female body and gender equality aren't important but because it is, simply, such an uninspiring track. It doesn't deserved to be examined so deeply and it doesn't deserve a Grammy.
At this point, you're probably thinking that I'm drawing undue attention to the song just by writing this. But I have a feeling it's too late anyway, that the song has seeped into the culture, inside and outside the United States. A play in London was released this week, inspired by Kat Banyard's book The Equality Illusion. Its title? Blurred Lines.