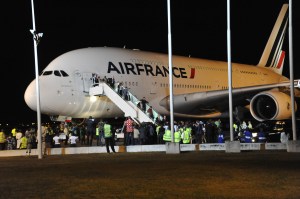 The New York Times might say landing strips are out of sexual style, but this new app promises to keep users scoring in the sky, on the airport runway and beyond.
"Wingman" purports to be "an app that connects you with attractive people on your flight, all before you touch down," its website asserts.
Translation: as long as there's WiFi, the app will help you find fellow hornballs and bang in the bathroom. We're not so convinced the "attractive" part will come to fruition, but as our grandma says, there's a lid for every pot.
Wingman's collective of developers, known as Miscellaneous Mischief, told Betabeat the app's interface "will be simple: individuals will be matched according to their flight number and airline."
They're working on an iOS version, but will also have a browser version ready, too. Users can indicate whether they're flying for business, pleasure or both, and reveal their seat number and final destination if they so choose.
"The idea is to start interesting conversations in unique situations, and simply see what happens," a spokesperson said.
The app's beta version is launching in two to three months. In the meantime, the developers are collecting email addresses on Wingman's website for beta testers. Enter yours to be among the privileged few who get to try the app before it launches, you lech, and get turned on quicker than the "fasten seatbelt" sign.
Or you could just use Tinder on your flight. Whatever works.