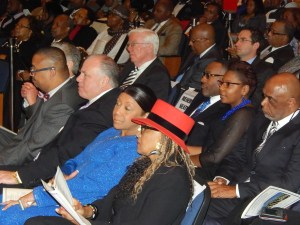 WINNERS
Leroy Jones
The Essex County Democratic Committee Chairman took numerous bows at the overwhelmingly well-attended swearing-in ceremony of East Orange Mayor Lester Taylor. Chairman of the strongest local Democratic organization in his hometown of East Orange, Jones presided over a laser lights show that reasserted Essex County political dominance and set the stage for two openly competing gubernatorial contenders: Steve Sweeney and Steve Fulop.
Don Guardian
The mayor of Atlantic City made history this week as an openly gay Republican taking charge of New Jersey's gaming capital city. He faces a challenge, as he must contend with a Democratic Party-controlled local governing body but has powerful GOP allies, starting with the governor.
Lester Taylor
The new mayor of East Orange made sure to acknowledge Jones in a special way at his Wednesday swearing-in ceremony, his boss former Gov. James Florio, and Essex County Executive Joe DiVincenzo. But the politically skillful mayor-elect has already built considerable goodwill within the Democratic Party and in his hometown and begins his tenure on a decided upswing.
Tom MacArthur
The frontrunner to succeed retiring U.S. Rep. Jon Runyan (R-3), the former mayor of Randolph has committed $1 million to a Congressional run and enlisted Gov. Chris Christie's treasurer, Ron Gravino, to manage the account.
George Gilmore
The Ocean County Republican Chairman may have lost Brick, but he also stretched his tentacles into the more fascinating Atlantic City, with the swearing-in of Mayor Don Guardian. Gilmore was a key early backer of Guardian's and made a point of attending the mayor's Jan. 1 ceremony.
Joe DiVincenzo
He still faces the problem of what to do about Newark, which has Wild West written all over it as four combatants vie for the mayoralty in City Hall. But the powerful Essex County executive removed off-the-reservation Dems Ray McCarthy in Bloomfield and Bob Bowser in East Orange to help blunt the question mark of Newark's biggest city. The Taylor-Jones dominance in EO this week showed off the reason why DiVincenzo won't have a serious primary challenge this year.
Angela Garretson
The Mayor of Hillside took the oath of office in a tasteful ceremony at Kean University's Hillside campus. The new mayor faces local dysfunction and does not control the local council, but impressed onlookers Wednesday evening with her poise and class in assuming executive charge of the Union County town. As noted in a past Winners and Losers column, Garretson owes her victory in part to U.S. Rep. Donald Payne (D-10), who with rising star Garretson's victory has now officially come into his political own as a congressman.
Joe Cryan
The Union County Democratic leader, an assemblyman from the 20th District, gave a rousing speech at Kean University in support of Hillside Mayor Garretson.
Jon Bramnick
He hasn't decided for sure that he will challenge U.S. Sen. Cory Booker (D-NJ) this year but if he does, the Assembly Minority Leader from LD21 won't have to worry about at least one formidable challenger from the right. Assemblyman Jay Webber (R-26) announced this week that he won't run.
LOSERS
Dave Stahl
Having switched parties and challenged the Democratic Party establishment, the Republican mayor of East Brunswick now has a target on his back and four local seats in play.
Charlotte DeFilippo
The chair of the local Democratic Party in Hillside once again begins another cycle opposing the efforts of a new executive, in this case Mayor Angela Garretson, who assumed the oath of office this week.
Richard Constable
U.S. Senator Bob Menendez (D-NJ) publicly questioned New Jersey's administration of federal Hurricane Sandy funds, saying he wants HUD Secretary Shawn Donovan to examine the efficacy of New Jersey's distribution process. The query/criticism went to the wheelhouse of Gov. Chris Christie's State Department of Community Affairs Commissioner.
Cory Booker
It was a violent year in New Jersey's biggest city, where over 100 murders occurred. The crisis forced the freshman U.S. Senator to parry criticisms of him and his administration as he attempts to regain traction for a run in defense of his U.S. Senate seat.
Robert Hanna
Once poised to be fitted for state Supreme Court Judge's robes, Hanna now heads for a lower court appointment, according to the Associated Press, which this week reported that Christie has abandoned his efforts to get his Supreme Court nominee on the bench after Hanna failed to secure a confirmation hearing.
Ras Baraka
Having run a nearly flawless campaign for mayor to this point, the Newark South Ward councilman got knocked off his feet for the first time with the Star-Ledger's above-the-fold story about Baraka writing letters requesting leniency for convicted gang lord Al-Tariq Gumbs.
Wayne Smith
The veteran mayor of Irvington will be in cover up mode this year with a stern challenge by Board of Education President Anthony "Tony" Vauss. The Democratic Party establishment wants to enforce discipline in outlying towns to make up for a volatile political situation in Newark, where anti-establishment player Ras Baraka is the frontrunner for mayor.
Howard Lundy – the owner of Guiding Light Behavioral Health Inc., Neptune; Brighter Day Behavioral Health Inc., Lawrenceville; Guiding Light Drug and Alcohol Treatment Service, Neptune
State Comptroller Matt Boxer this week filed a $2.7 million claim against the three facilities, alleging they sought to obtain compensation for which they were not entitled. The comptroller wants to have all three debarred from participating in the Medicaid program for five years.